FRA 2021 Virtual Annual Meeting – Summary of Business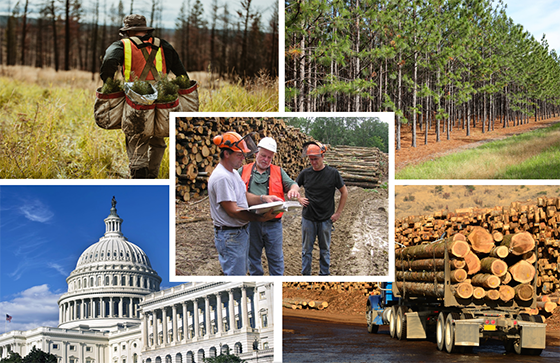 FRA's 87th Annual Meeting took place virtually May 17-19, drawing almost 200 members for educational speaker sessions, association and committee reports, and the governance decisions that will guide the Association through the new fiscal year.

Throughout the meeting, members heard presentations from a variety of speakers. Many presentations have been posted to the FRA website and are indicated with a link below if available. You will need to sign in as a member to view; if you have difficulty accessing, please contact Jacob Minor at [email protected] for support.
Rep. Abigail Spanberger
Representative Abigail Spanberger (D-VA-7) spoke on the current political climate in Washington, DC. She expressed her support of the forest products industry, including the role of forests in addressing climate change, active forest management, forest-derived biomass, and new and emerging wood product markets. The Congresswoman also indicated her interest in signing on as a co-sponsor of the Safe Routes Act, which Rep. Mike Gallagher (R-WI-8) recently reintroduced in the House.
Brad Southern
Brad Southern, Chairman and CEO of LP Building Solutions, joined us to speak on the impact COVID-19 has had on the industry and his expectations for what lies ahead in the next three to five years. Brad reviewed LP Building Solutions' operations, which continue to strengthen. LP is a leader in the siding, OSB, engineered wood, and off-site framing markets. Brad outlined how the pandemic has impacted the supply chain, workforce, and the industry's customers, and provided a futuristic outlook.
Craig Blair
President and CEO of Resource Management Service, LLC, Craig Blair, joined FRA members to discuss how RMS has navigated operations through the pandemic. He noted that throughout COVID-19, the forest products industry retained an adaptable business model and therefore remained resilient, and discussed how operations were now returning to normal. He also provided his predictions for the future of the industry, including current industry strengths, weaknesses, opportunities, and threats.
Kathy Abusow
Kathy Abusow, CEO of the Sustainable Forestry Initiative, spoke on "Building a Diverse and Resilient Workforce." Using interactive polling and experiences from companies across North America, Kathy discussed ways that members of the forest industry can introduce forestry careers to students, show a career progression to individuals considering the sector, and attract diverse talent to a range of positions. The presentation and discussion that followed provided new ideas and approaches that FRA members can use as they work to find new workers.
Forest Operations Management During Tumultuous Times: The New Normal?
The National Operations Committee-sponsored panel session, "Forest Operations Management During Tumultuous Times: The New Normal?", addressed several relevant and timely topics that have impacted forest operations management and the wood supply chain during the past year. Bill Guthrie, General Manager – DS Smith, shared his company's approach to continuing business operations while also ensuring employee safety during the COVID-19 pandemic. Chris Lunde, Director of Operations – Port Blakely, followed with an overview of the challenges that the Fall 2020 wildfire season presented to timberland managers in the Pacific Northwest. Rob Hughes, Executive Director – Texas Forestry Association, concluded the session with his summary of the extreme winter weather impacts on the forest products industry and wood supply chain in Texas.
Chris French
Chris French is the Acting Deputy Undersecretary for Natural Resources & Environment at the USDA. In this capacity, he oversees the day-to-day activities of the Forest Service and Natural Resources Conservation Service. During his presentation, Chris recognized the importance of forest-derived biomass for energy, improving forest health on National Forest Lands, and addressing wildfire on Federal lands. He additionally spoke on forestland's role in addressing climate change and the USDA's support of getting financial relief for timber harvesters and timber haulers provided in the final spending bill passed into law in December.
Rob Sentz
Rob Sentz, Chief Innovation Officer at EMSI, presented on the labor challenges impacting the trucking industry. Rob identified several of these challenges, including an aging workforce and the reality that retiring workers are not being replaced with younger workers. United States demographics show that a large retirement wave continues, and there are simply not enough younger workers in the labor pool to fill not only trucking jobs but jobs in general. Trucking is the 11th largest employer in the United States and advertises the most for job openings.
FRA Emerging Leader Session
FRA's Deb Hawkinson was joined by Signature Transport's Dale Lemmons, Grand Forest Inc.'s Carrie Bovender, and JATCO's Jeremy Stecker on this educational panel. Panelists discussed the skill sets that helped them succeed as leaders in the industry; the mentors throughout their careers that helped guide their path; recommendations on how organizations can support emerging leaders in their ranks; and key takeaways for the industry's future leaders. Attendance and participation were outstanding, and we look forward to further developing and strengthening our Emerging Leaders program in the coming year.
During the May 19 Board of Directors Meeting, attendees:
Reviewed FRA's financial performance over the past fiscal year
Approved the FY 2021-2022 budget
Reviewed reports from FRA's National Committees
Heard the Meetings Advisory Group report on upcoming meetings: FRA's 2021 Fly-in and Fall Board Meeting to be held at the Phoenix Park Hotel, Washington, DC, September 21-23, and the 2022 Annual Meeting to be held at the Omni Oceanfront Resort in Hilton Head, SC, May 16-18
Recognized outgoing Chair Lee Alexander for his three years of leadership and managing FRA through a pandemic.
Elected a new Chairman, Pete Stewart, Founder and President/CEO of Forest2Market
Confirmed Executive Committee Leaders:

Kevin Hudson, WestRock
Dale Lemmons, Signature Transport Inc.
Doug Long, Rayonier, Inc.
Joseph Parnell, Parnell Inc.

Approved new members to the 2021-2023 Executive Committee:

Carrie Bovender, Grand Forest, Inc.
Rob Elliot, Evergreen Packaging
Scott Folk, Roseburg Forest Products
Wes Godbee, Interfor*
Jim King, Westervelt
Dan LaMontagne, Seven Islands Land Company
Aaron Welch, Weyerhaeuser*

Recognized Tommy Norris on his retirement from the FRA Executive Committee
Recognized FRA 2021 National Award Winners:

Jerry Gray with Gray Logging LLC of Madison, Florida as the FRA 2021 National Outstanding Logger.
Dr. Joe Conrad, Assistant Professor of Forest Operations at the Warnell School of Forestry & Natural Resources, University of Georgia, as the 2021 National Technical Writing Award winner. Conrad authored Technical Release 20-R-11, "Access to Interstate Highways Would Improve Timber Transportation in the US South."

Reviewed a report from the THATS Foundation, including hearing an update on recent grants awarded, and the first ever THATS Virtual Auction.
* Approved to the Executive Committee after serving partial terms following the departure of previous members.
THATS Foundation Virtual Auction
The Timber Harvesting and Transportation Safety (THATS) Foundation held its first-ever virtual auction, raising $3,000. Proceeds go toward THATS, a national organization that funds the development and implementation of projects that show a significant chance of reducing logging-related and transportation fatalities or injuries. THATS strives to promote, support, and serve as a catalyst for safe and professional work attitudes, practices, and conditions in timber harvesting and transportation. Over the years, the foundation has assisted in funding the development of crucial logging safety and transportation training resources. Thank you to those who participated!
Thank You to Our Sponsors!