University Series Issue #9
University of Tennessee School of Natural Resources: An Overview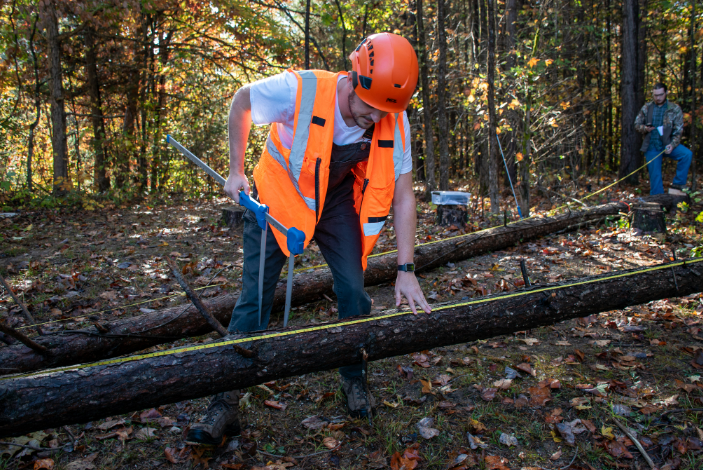 Forests contribute significantly to Tennessee's economy and quality of life, representing 51 percent of the state's land base. The forests are predominantly privately owned, with almost 70 percent of the area controlled by family and individual owners. Tennessee is a hardwood-dominated state, with the largest share (70 percent) being classified as oak-hickory. Forestry and the forest products industry generate over $24 billion in output annually, accounting for 3.5 percent of the state's economy and employing more than 98,000 Tennesseans. The University of Tennessee School of Natural Resources offers the only Society of American Foresters (SAF)-accredited forestry undergraduate (BS) program in the state with four concentrations: Forest Resources Management, Restoration and Conservation Science, Urban Forestry, and Wildland Recreation. Our School also offers a BS in Wildlife and Fisheries Science, with many students earning a minor in Forestry and many Forestry Majors minoring in Wildlife and Fisheries.

The forestry program officially began in 1964 in the Department of Forestry, although a pre-forestry program was established several decades earlier. The department was renamed Forestry, Wildlife and Fisheries in 1977 and was elevated to the School of Natural Resources in 2023, signifying the growth in the program and the breadth of disciplines involved in our teaching, research, and Extension programs. On the forestry side, these include ecology, silviculture, restoration, operations and procurement, economics, finance, genetics, wood science, forest products manufacturing, and recreation.




Currently, our School consists of approximately 130 undergraduate students in forestry and 200 in wildlife and fisheries. We more than doubled our forestry enrollment in the past decade. While the programs have grown to prepare students for the rapidly expanding array of careers in natural resources, we have maintained the traditional forestry degree. Our graduates are working in a wide range of positions across the forest industry and state and federal agencies. Given the diversity of forest cover types in the state, our students gain experience in the ecology and management of bottomland and upland hardwoods, mixed pine and hardwoods, natural pines, and plantations. We continue to maintain our camp program, now offered during the fall semester, to allow our students to acquire a 15-week, field-based program that covers silvicultural practices, artificial regeneration, forest operations, wood procurement, fire, wood processing and use, inventory, and wildlife habitat management. The wood procurement portion of camp includes practicing procurement foresters working with the students to estimate the value of individual timber tracts and negotiate with other 'mills' on prices and delivery. In addition to the camp semester, most of our classes in the final three years of the program involve extensive field experiences. We also have a comprehensive internship program to assist our students in gaining real-world experience prior to graduating with a forestry degree.




Our School offers thesis and non-thesis Master of Science (MS) degrees in Forestry as well as a PhD in Natural Resources, which covers a wide range of forestry disciplines. We offer a concentration in Biobased Products and Wood Science and Technology within the Forestry MS and Natural Resource PhD degrees to prepare students for those industries. We also established a three-semester, non-thesis MS program in Forest Business with opportunities to focus on procurement and logistics, forest investment and finance, or wood processing. The program includes an internship during the summer term when we work to place the students in a position that prepares them for their selected specialty. Currently a traditional on-campus program, we will begin offering an option for working foresters that will combine online components with periodic campus stays. Currently, the School has approximately 50 graduate students, most of whom are working on research funded by state and federal agencies such as the USDA National Institute of Food and Agriculture, USDA Forest Service, National Science Foundation, Tennessee Division of Forestry, as well as private industry.




Our Extension program within the School is as comprehensive as our faculty and includes programs in forestry, wood products, urban forestry, wildlife, fisheries, and outdoor recreation. While most of our nine Extension specialists are located in Knoxville, some are located across the state and provide programs for forest landowners, foresters, wildlife managers, loggers, and the forest products industry. Some of our better-known programs within the state include the Tennessee Master Logger program in conjunction with the Tennessee Forestry Association, Healthy Hardwoods, Welcome to Your Woods, Back Porch Forestry, and Tennessee Tree Day.




We have 35 faculty members within the School of Natural Resources and several new positions coming in the next year to expand our forestry programs. Our forestry faculty expertise includes forest biology/ecology, biometrics, forest economics and policy, tree improvement, forest business, human dimensions, outdoor recreation, silviculture and forest management, wildland fire, and urban-community forestry. Our current faculty, and those planned for the next year, will help to enhance our existing programs and increase our impact on emerging needs. The oldest program within the School is the UT Tree Improvement Program, which was established in 1959 with a mission to improve the productivity and health of Tennessee forested lands through the planting of high-quality, locally adapted, and genetically improved seedlings by Tennessee landowners. Under its current director, Dr. Scott Schlarbaum, the program has established seed orchards across the state for more than 30 species of hardwoods. The newest program to be launched in January 2024 is the Data Science Institute for Machine Learning and Artificial Intelligence (AI). It will focus on advancing education and research in data science for industries that grow, manage, harvest, and utilize wood and fiber resources. Industry applications will be in forest management, timber harvesting, and manufacturing, with a focus on training for industry members, graduate and undergraduate education, and applied research.





We are well positioned to address the needs in forest management, operations, and processing in the future with the enhanced status as a School and growing faculty and student populations. We look forward to contributing to the field of forestry through our three mission areas of teaching, research, and Extension.