FRA Honors Outstanding Performance from Industry Stakeholders in the Southeastern Region
Back in April, I dedicated an entire blog article to acknowledging recent award recipients representing FRA's Southcentral Region. I would like to take this opportunity to recognize the outstanding performance from several folks in the Southeastern Region during the last year. I am happy to say that the region was well-represented during our May 17-19 Annual Meeting, as both FRA 2021 National Award recipients hail from the Southeastern U.S.
Gray Logging, LLC, based in Madison, Florida, was awarded the 2021 National Outstanding Logger Award. The company proudly employees 29 dedicated professionals and places a high emphasis on recruiting and retaining a quality workforce. Gray Logging offers a monthly safety bonus to truck drivers demonstrating safe driving habits, rewards drivers for complying with DOT regulations every 50,000 miles, and pays an annual Christmas bonus to every employee. On-site safety meetings are conducted each month and cover multiple topics of relevance to employees throughout the company.
Jerry Gary is a 40-year veteran of the timber industry, and the entire Gray family is active in their local community. They sponsor a college scholarship fund, hold a week-long hunting and fishing trip for combat marines and their children (including a tour of local logging operations and consuming mills), and routinely sponsor Fellowship of Christian Athletes and little league sports teams. Furthermore, Jerry was the driving force behind the creation of a CDL Driving School at a local community college, and he and his company regularly contribute to the "Log a Load for Kids" program.
Jerry, along with several family members and friends, participated in the virtual meeting to receive the award. "I've always said that I have the best employees in the Southeastern U.S., and now I can say that I have the best employees in the Nation. It is a great honor, and I'm so proud and humbled," said Gray. Gray Logging, LLC was "Florida District Logger of The Year" in 1999, 2000, 2004, and 2010. In 2010, Gray Logging, LLC was recognized as "Florida Logger of the Year." The company was also awarded the FRA Southeastern Region Outstanding Logger Award in 2010 and 2021.
More information on Gray Logging, LLC and the award is available on FRA's website.
Congratulations, Jerry, Ginger and all the employees at Gray Logging! We all appreciate your quality work and professionalism.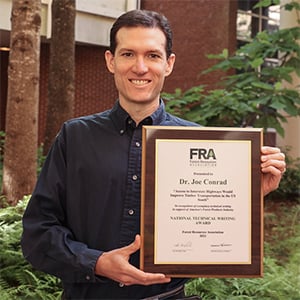 Dr. Joe Conrad, Assistant Professor of Forest Operations at the University of Georgia's Warnell School of Forestry & Natural Resources, was also acknowledged during the 2021 Annual Meeting by receiving the 2021 National First Place Technical Writing Award. This annual award recognizes the best Technical Release as selected by FRA's National Operations Committee.
Conrad's recent Technical Release: Access to Interstate Highways Would Improve Timber Transportation in the US South (20-R-11) featured recent University of Georgia research that quantified the safety and efficiency benefits of applying state weight laws to interstate highways. Dr. Conrad's study analyzed more than 900 unique haul routes from more than 250 harvest sites in eight wood baskets in the Southern U.S.
Dr. Joe Conrad, Assistant Professor of Forest Operations at the University of Georgia, is FRA's 2021 National Technical Writing Award recipient.
Several highlights of his Technical Release include:
• In seven of the eight wood baskets analyzed, more than half of the harvest sites had at least one timber delivery that would benefit from interstate highway access.
• The number of intersections and stop signals encountered per trip is critical: 40% of all accidents and approximately 25% of fatal log truck crashes occur at intersections.
• Interstate access reduced the number of miles driven on secondary roads by as much as 44% in one of the study regions. • In addition to reducing costs for log truck owners, interstate highway access would reduce damage to public infrastructure. Pavement damage from log truck traffic was estimated to be reduced by approximately $4.9 million per year across the eight wood baskets.
Much of Dr. Conrad's research has assisted FRA in our Safe Routes Act advocacy efforts and has benefited the overall forest products transportation sector. He is a "back-to-back" winner of this award, having received the exact same honor during last year's Annual Meeting. During the virtual meeting, Dr. Conrad stated, "thanks to the University of Georgia for allowing me to conduct applied research that matters to folks in the industry like you all, and thanks to FRA for this award. It really means a lot to me."
Please visit the FRA website to view the Press Release announcing Dr. Conrad's award. Great job, Dr. Conrad. Keep up the outstanding work!
I would be remiss if I did not take a few minutes to also recognize a few other Southeastern Region members for their outstanding work. Dr. Shawn Baker of Forisk Consulting and the father-son duo of Jim and Taylor Griffith of TRACT tied for regional runner-up honors for their recent FRA Technical Releases. Baker's work, Forest Management Practices of Private Timberland Owners and Managers in the U.S. South (2020 Update), tracks the intensity, variance, costs, and results associated with various silvicultural practices in the South and complements previous results documented in FRA Technical Releases published in 2014 and 2016. Jim and Taylor Griffith co-authored Smart Software Meets Harvest Operations. Their publication featured an analysis of TRACT, "a web and app-based procurement, accounting, and logistics software" designed to benefit numerous industry supply chain stakeholders. Nice work, Gentlemen. And I am beginning to wonder what is in the water down there in Georgia!