Training the Next Generation of Logging and Forest Workers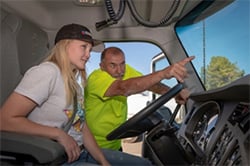 About 45 minutes east of Redding, CA, in the heart of the northern Sierras, the unmistakable buzz of a hotsaw can be heard. As you listen, you start picking up the distinct rumblings of logging equipment. There is something different about the rhythm of this logging operation. The tempo is a little slower. There are periods of quiet, and as you get closer, you see a rather large group in safety vests and hard hats gathered around some shiny new equipment. What is this?
There is a reason the tempo is slower. Welcome to an outdoor classroom in the middle of the woods. There are no chalkboards or desks, but do not let that fool you! Shasta College's NEW Heavy Equipment Logging Operations (HELO) certificate program focuses on building a foundational skillset operating purpose-built logging equipment. With access to 45,000 acres of real-world training grounds provided by Sierra Pacific Industries (SPI) and led by instructor Rick Boontjer, an experienced operator in his own right, 32 students over the 2019-20 academic year have had the opportunity to gain practical experience through seat time in four brand new pieces of logging equipment.
Senior heavy equipment faculty member, John Livingston has worked diligently with the program's industry advisory council to develop the HELO certificate. This work has been made possible through unprecedented collaboration with industry, community, and agency partners to address the growing workforce needs specific to the forest products industry and the associated transportation supply chain.
As a California Community College, we are committed to identifying and addressing workforce needs in a collaborative way guided by real-time advice from our industry partners. Our mission also includes providing equitable access across diverse and non-traditional student populations. Women, veterans, and, through Shasta College's award-winning STEP-UP program, those who have been formerly incarcerated, have successfully completed the logging operations and/or truck driving training courses and gone on to connect with industry partners to explore career opportunities.
Initial investments in the HELO program have been made through five million dollars awarded in two phases through the California Climate Investments and CAL FIRE's Forest Health program. Phase I ($3.2M) was provided in cooperation with the Fall River Resource Conservation District, while Phase II ($1.8M) was granted directly to Shasta College.
Phase I funding has made it possible for Shasta College HELO students to train on equipment featuring the latest in applied technology within a fleet of college-owned John Deere equipment, including an 859M Feller Buncher with a Quadco 248 Hotsaw, a 2656 Swing with a Waratah HTH623C Processor and a 2156G Log Loader. Additionally, through a strategic partnership with Pape Machinery, a demo 648 L-II Skidder is provided to the HELO program each academic year at no charge. With joystick controls and cockpit-like cab environments, this equipment appeals to the younger generation and serves as a draw for a workforce pipeline that may never have previously considered the forest sector.
Phase II funding will be utilized to add log trucks and trailers as well as other pieces of equipment to further expand the Class A/B license training courses.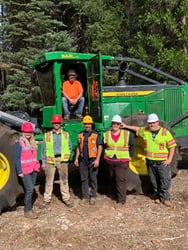 In an industry where over 50% of the existing workforce is over the age of 44, meaningful engagement with a younger demographic is key. Regional industry partners are frequent visitors to the Shasta College program. When asked about what makes the HELO certificate program unique, Ted James, SPI forester, explained, "Shasta College is the only college within California to become employable as a Licensed Timber Operator, assisting in the program becoming self-sustaining. Industry partnerships afford their students the opportunity to train on more than 45,000-acres of timberland, as well as receive mentoring from resource professionals and experienced owner/operators."
With our partners, we are elevating the applicant pool, reinvigorating the industry, and appealing to a younger generation through the showcasing of applied technology in modern mechanical logging equipment. Training the next generation of the logging and forest sector workforce is a critical component to solving society's recognized challenges surrounding global warming, healthy watersheds, and sustainable forests for generations to come. Current and future market innovations are sure to only increase demand.

Shasta College is also developing a first-of-its-kind Registered Apprenticeship for Logging and Forest Workers through a $500,000 California Apprenticeship Initiative grant. This apprenticeship program will be overseen by a committee of industry and workforce development partners to assure that apprenticeship training aligns directly with industry needs.

Together, we are training tomorrow's workforce today to preserve supply chain integrity and keep doing the good work of responsible and sustainable forest management.