When a Mill Closes, Optimists See Opportunity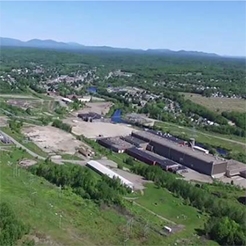 The Great Northern Paper Mill in Millinocket, Maine was once the largest and most productive pulp and paper mill in the world. Carved out of the forest, Millinocket was a prosperous community, with life centered around the mill. Generations grew up in and around the mill, becoming loggers, foresters, and paper makers.

In 2008, the mill closed. This was a blow to the community and the workers, but there were options. A pulp and paper mill was operating in nearby East Millinocket, and there were four mills operating in the Penobscot River Valley. By the end of 2015, all of these mills – in Bucksport, Old Town, Lincoln and East Millinocket – were closed.

Sadly, there isn't anything terribly unique about the situation faced in Millinocket. Many towns grew up and thrived because of a mill, a factory, a processing plant. Generations of residents knew they had a job working at or supplying the mill. With a rapidly changing global economy, one day that disappeared, leaving the town and its residents stranded. As the New York Times wrote, "The decline of Great Northern decimated the area's economy, making it an extreme example of once-prosperous Maine manufacturing communities that have been hollowed out as their mills have closed or shed jobs."

It would be easy for this to be the end of the story, as a once flourishing company town slowly fades away. But that's not what happened. A group of people from Millinocket – including many who moved away but continue to believe in the area – decided that if anyone was going to help the town move forward, it would need to be them. In 2014, the non-profit Our Katahdin formed "to promote community and economic development in the region". This effort embraces the heritage and opportunity found in the forest products industry, but not to the exclusion of other ways to build and diversify the town's economy.

Click Here to View the Our Katahdin PDF

At the April FRA Northeast Forest Forum, we were fortunate to hear from Our Katahdin about an ambitious project to attract forest manufacturing back to the region. In January 2017, Our Katahdin purchased the mill site, with the goal of redeveloping this asset to once again bring jobs and opportunity to the community. The group suddenly found themselves the owners of a 1,400-acre industrial site, with 250,000 square feet of buildings, access to millions of acres of timberland, and much of the infrastructure developers look for when siting a new mill.

Rebuilding and diversifying the economy of what was, until very recently, a company town is a huge challenge. A group of volunteers – many who live elsewhere – certainly can't do it on their own. But they can do something, and they are. A cross-laminated timber manufacturer has announced plans to build a facility at the site, and others are expressing interest. FRA's Forest Forum provided a room full of landowners, loggers and foresters to interact with Our Katahdin, and there was a great opportunity to hear about options, challenges, and what might be next.

The forest industry is always changing. In the Northeast, those changes have accelerated. It's easy to focus on what has been lost, but it is inspiring to see individuals and groups taking the opportunity to build the next generation of our industry.