Brad Rootkie with Central Pine Lumber Recognized as FRA 2023 Lake States Region Outstanding Logger
For Immediate Release
Brad Rootkie with Central Pine Lumber Recognized as FRA 2023 Lake States Region Outstanding Logger
Duluth, MN –– On October 17, 2023, The Forest Resources Association (FRA) and STIHL Incorporated honored Brad Rootkie with Central Pine Lumber of Brook Park, MN, as the Lake States Region Outstanding Logger at FRA's Lake States Region (LSR) Annual Meeting in Duluth, MN, on October 17. FRA Lake States Region Committee Chair Jim Hoppe presented Brad with a certificate for a STIHL chainsaw, a $500 check from STIHL, and a plaque to recognize the achievement.
Brad was very gracious upon receiving the award and expressed his thanks to FRA and recognized his employees. "I'm humbled by this award and proud to represent the great loggers we have in Minnesota," Rootkie said. "I owe it to my crew, particularly Mark Knudson, who has been with me for more than 40 years. And I'm fortunate to have the support of my wife Sherry and our family. People just don't understand what our families must put up with, working long hours and especially when we are gone all winter working in the woods. I couldn't do this without my family."
Ray Higgins, Executive Vice President, Minnesota Timber Producers Association, stated, "Brad Rootkie is another in a long line of outstanding loggers in our state," said Ray Higgins of the Minnesota Timber Producers Association. "His commitment to excellence in harvesting timber and sustainably managing the resource is what makes him a great steward of our forests. Brad is also a leader in his community and in state logging circles. This recognition as FRA Lake States Region Outstanding Logger is well earned."
Tim O'Hara, FRA Lake States Region Manager and Vice President of Government Affairs said, "Brad Rootkie is a great example of a logging business that exceeds expectations. His dedication to continuous improvement in the office and the woods over the last 40 years is a trademark of logging businesses that have been recognized nationally by FRA in the past. The Lake States Region is looking forward to Central Pine Lumber competing for the FRA National Outstanding Logger award,"
Brad has served on The Board of Directors of the Minnesota Timber Producers Association for 15 years and the Brook Park Township Board for 30 years. Brad has also been active in the Pine County 4H program and served on his church council (Church of the Nazarene Presbyterian) and the board of Federated Co-ops Inc., based in Princeton, MN. As a result of his active role in these organizations, lawmakers regularly reach out to Brad for his insight on logging and timber issues in Pine County and around the state.
In April, Central Pine Lumber was recognized as the Logger of the Year by the Minnesota Sustainable Forestry Initiative Implementation Committee.
FRA's Outstanding Logger Award program is designed to raise the visibility of professional logging contractors and to encourage other loggers to adopt the performance of the award winners. The Regional Award winner becomes a nominee for FRA's National Outstanding Logger recognition. For over thirty years, STIHL Incorporated has served as sponsor of FRA's Regional and National Outstanding Logger Awards.
FRA 2023 Lake States Region Outstanding Logger Image: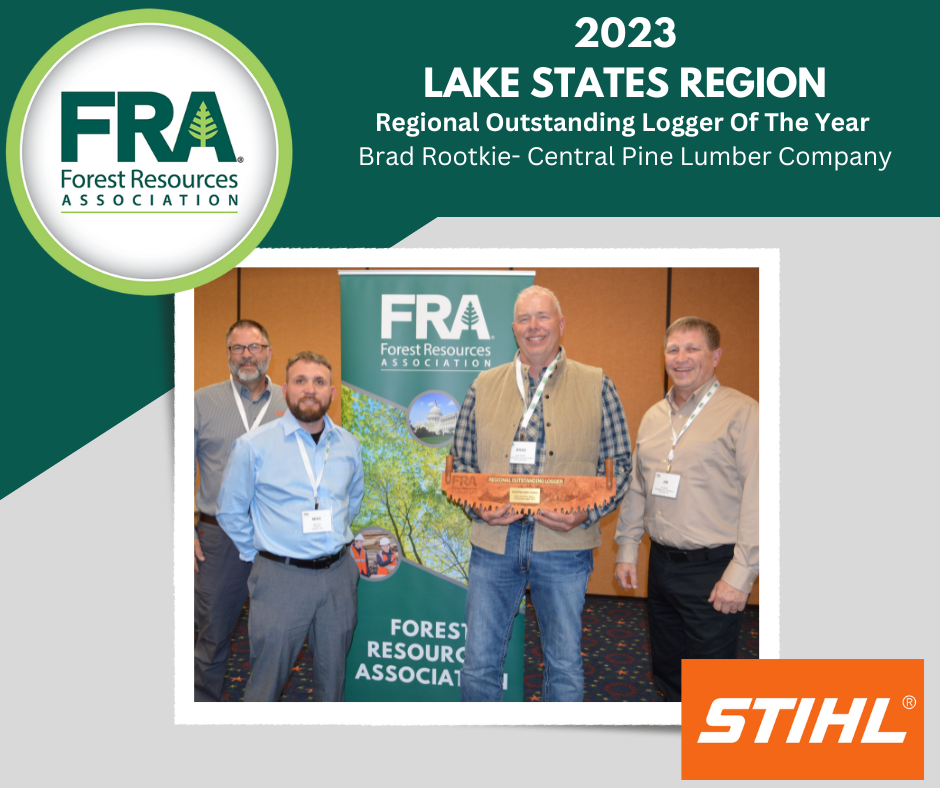 Pictured from left to right: Rodney Mueller (STIHL), Lake States Region Steering Committee Vice Chair Mike Filtz (Ahlstrom), Brad Rootkie (Central Pine Lumber Company), and Lake States Region Steering Committee Chair Jim Hoppe (Packaging Corporation of America.)