Mature and Old-Growth Inventory and the Advanced Notice of Rule Making Industry Call to Action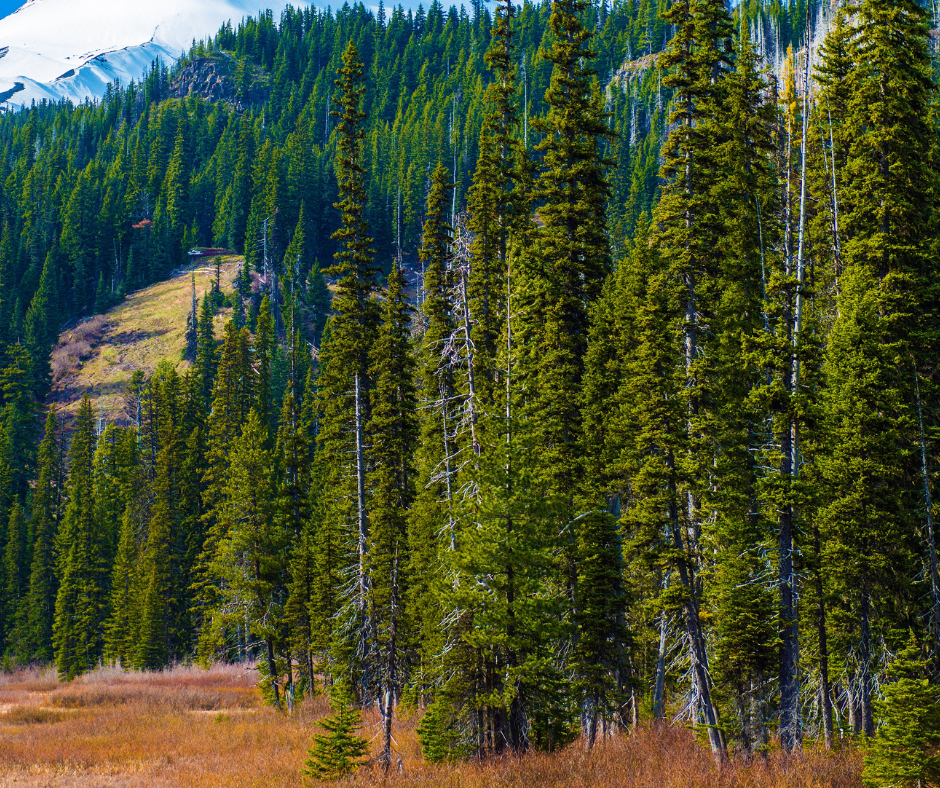 In April of 2022, President Biden signed Executive Order 14072, Strengthening the Nation's Forests, Communities, and Local Economies. This order was directed to the Department of Interior (DOI) Bureau of Land Management (BLM) and the US Department of Agriculture (USDA) Forest Service (FS), instructing them to define and inventory old-growth and mature forests on lands managed by those agencies within one year. These agencies were tasked with defining, identifying, and inventorying old and mature growth on more than 178 million acres. As the USDA FS and DOI BLM began this enormous task, they asked for public input on defining old and mature growth across many ecosystems. Overwhelmingly, the team received input that no single definition of old-growth or mature growth applies to the many ecosystems across the United States.
According to the executive order, once the definition and inventories are completed, the FS and BLM are required to:
Coordinate conservation and wildfire risk reduction activities, including consideration of climate-informed stewardship of mature and old-growth forests, with other executive departments and agencies, States, Tribal Nations, and any private landowners who volunteer to participate;
Analyze the threats to mature and old-growth forests on Federal Lands, including from wildfires and climate change; and
Develop policies, with robust opportunity for public comment, to institutionalize climate-informed management and conservation strategies that address threats to mature and old-growth forests on Federal Lands.
OLD-GROWTH FRAMEWORK
The BLM and FS determined that the best course of action for developing a framework was to work with the current structural definitions at each Forest Service region. These definitions were developed in the early 1990s based on a letter from Forest Service Chief Dale Robertson that was sent in 1989. These definitions vary based on regional ecosystems and have been refined multiple times and are based on structural characteristics that include the number of large trees per acre, stand age, and standing snags and downed wood. These regional definitions take into account the ecological variations that are unique to specific vegetation types. These definitions were then applied to BLM-managed lands. Once the definitions were adopted, the team used Forest Inventory Analysis (FIA) plot data to extrapolate the old-growth structure on the DOI and UDSA-managed federal lands.
MATURE GROWTH CLASSIFICATION
In order to develop an inventory of mature growth, the team had to develop a definition of what mature growth is and how it applies to the myriad of forest types across the US.
The team only had four months to complete an inventory of mature growth and develop working definitions, which will likely evolve and be refined as the information is verified on the ground. The team produced the following method to determine what a mature classification is: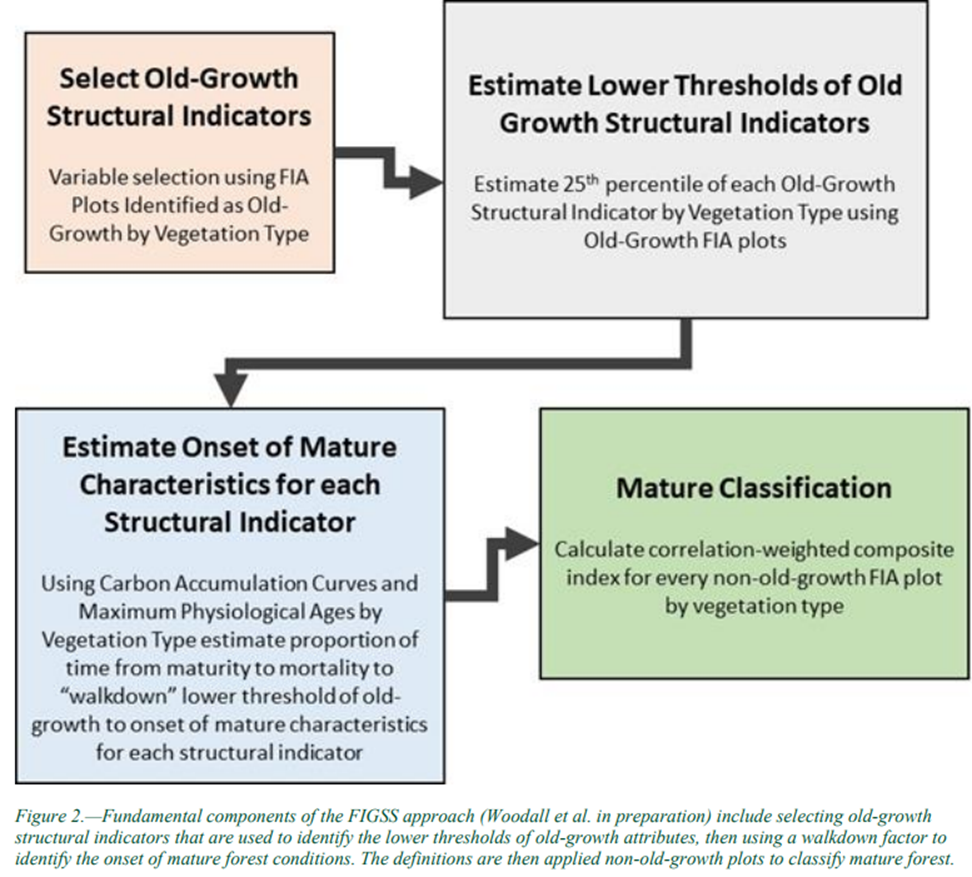 NATIONAL TOTAL ACRES OF MATURE AND OLD-GROWTH ON FS AND BLM LANDS
Based on these classifications, the FS and BLM released the chart below depicting the number of acres in "younger forest," old-growth and mature acres.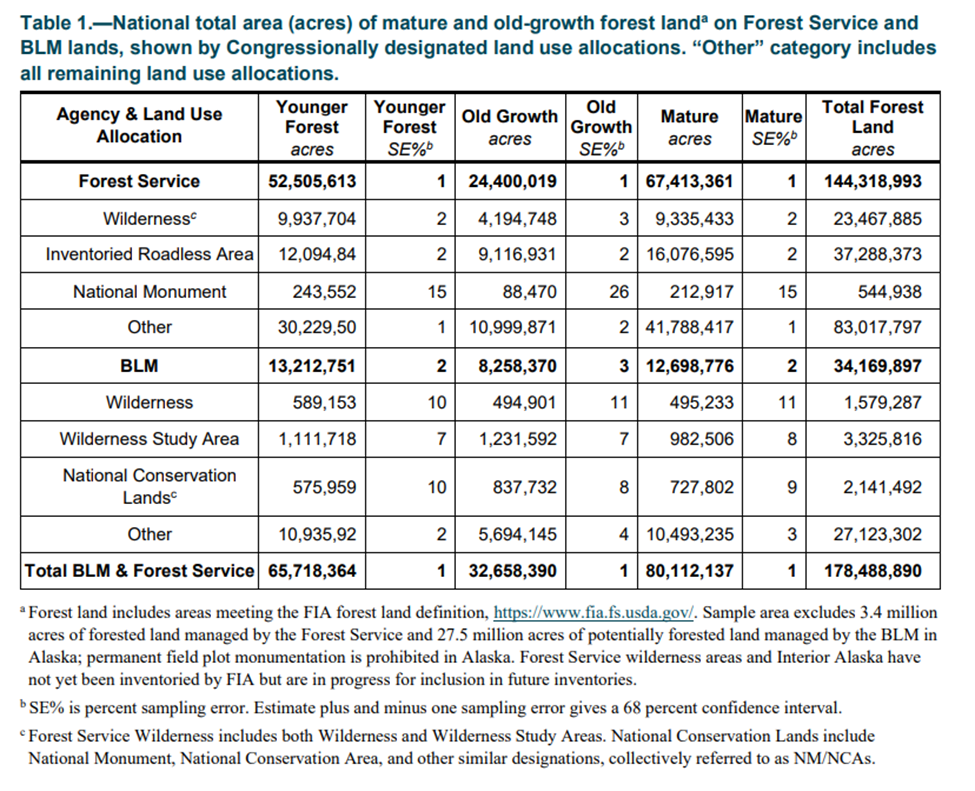 Overall, the inventory indicates that the forested lands managed by the BLM and FS are not deficient, with old-growth covering 18% and mature forest covering 45%. What is not fully understood is the rest of the context of the forests, whether this is within the future range of variability, and whether these forests are deficient in other structural stages throughout these forests. While it is beneficial to understand the number of acres in the old and mature structural stages, this inventory does not show the health of these forests, nor does it place these inventories in the context of what should be on the landscape. The following steps for the agencies are to develop policies and procedures to implement climate-smart forestry to conserve these forests.
Opportunities for Engagement
Recently, an Advanced Notice of Proposed Rule (ANPR) was released, and the public was asked for comment on how to improve "climate-smart" forest management on public lands. The industry is concerned that anti-forestry groups will use this ANPR to continue to impose administrative rules on managers that will reduce the opportunity to treat public forests to reduce the impact of disease, insects, and uncharacteristic wildfires. The industry has an opportunity to push back on this anti-management narrative and state facts about forest management and its contribution to conservation, healthy ecosystems, and carbon sequestration.
This is the industry's opportunity to tell our stories of success and the need for increased forest management on our public lands. According to a recent report from the US Forest Service, public lands in the Intermountain, Rocky Mountain, and Southwest regions emit carbon into the atmosphere. In looking at these regions, there is very little to no infrastructure in that region to help maintain these ecosystems. It is important that the Forest Service and BLM hear from the industry on how active management of public lands is needed to increase carbon sequestration, create healthy ecosystems, and reduce the impacts of climate change.
Comments are due on July 20th, 2023
If you would like to submit comments, please click here, and encourage the public land management agencies to increase opportunities for scientifically based forest management on our public lands to increase resiliency to disturbance, create economic opportunities, and truly partner with industry to ensure the sustainability of public resources and the businesses that manage them.
Resources:
Mature and Old-Growth Inventory: https://www.fs.usda.gov/sites/default/files/mature-and-old-growth-forests-tech.pdf
Forest Service Functions ANPR: https://www.regulations.gov/document/FS-2023-0006-0002
Greenhouse Gas Emissions and Removals from Forest Lands, Woodlands, Urban Trees, and Harvested Wood Products in the United States, 1990-2021: https://www.fs.usda.gov/sites/default/files/fs_media/fs_document/GHG-Emissions-Removals.pdf