2023 University Series: Iss. 4
An Overview of the School of Forest Resources at the University of Maine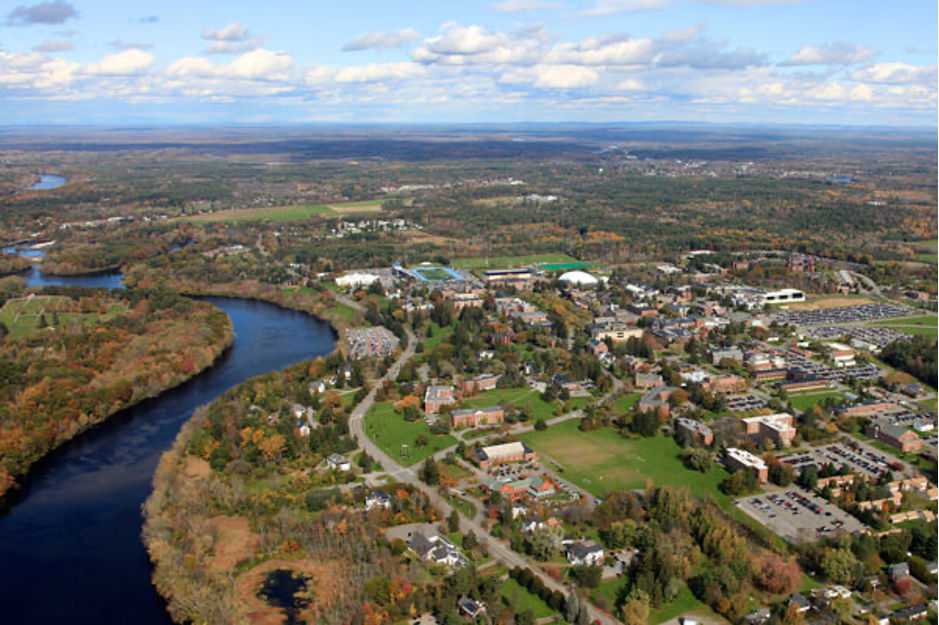 Forests dominate the Maine landscape – nearly 90% of the state is forested. As seen from the view at the top of mile-high Mount Katahdin, unbroken natural forests stretch for 100 miles in all directions, from the Canadian border to the Atlantic Ocean. In Maine, forests are a way of life, economically and recreationally. We are in the woods from the deep snows of winter – to the long, pleasant days of summer. As a result, the forest resource programs at the University of Maine enjoy the attention and prestige not equaled in many other states. The forest resource community in Maine supports an endowment that provides over $500,000 in scholarships to our students. The School of Forest Resources at the University of Maine realizes the benefits of Maine's forest heritage, which has resulted in the longest continuously accredited forestry program in the nation.
The Society of American Foresters accredited forest resources programs at UMaine include:
B.S. in Forestry — For over 100 years, the program has prepared students to sustainably manage our forested landscape for small and large landowners, private and public lands, and multiple needs, including timber, wildlife, and other ecosystem services.
Master of Forestry — The program is for students with undergraduate degrees in other fields wanting to become foresters and students with undergraduate forestry degrees wishing to specialize.
Additional undergraduate degrees in forest resources include:
B.S. in Parks, Recreation, and Tourism – The program's emphasis on integrating natural, social, and management sciences reflects the interdisciplinary context in which recreation, tourism, natural resources planning, and environmental concerns are addressed in the field.
B.S. in Sustainable Materials and Technology – The program involves multiple academic disciplines. It aims to produce professionals with strong abilities to assess and communicate the technical foundations of how forest and other plant-based materials can be sustainably produced. Students learn a variety of applications ranging from traditional wood products to emerging sustainable materials and bioenergy systems throughout the entire life-cycle of the products.
The undergraduate programs provide students with the strong communication and professional skills needed to succeed. Students graduate from our programs knowing how to conserve and manage forest resources to meet society's need for commodities, services, and a healthy environment.
M.S. and Ph.D. in Forest Resources – The School of Forest Resources faculty sustains a vibrant research program that receives $6 million to $9 million in grant funding annually and supports 30 M.S. students and 30 Ph.D. students. There are 20 base-funded graduate assistantships to support students, and our graduate students frequently earn academic and professional awards.
All programs take advantage of Maine's location for a practical, hands-on experience. Students work closely with faculty researchers who explore and extend the latest knowledge. The forest experience occurs next to campus in the university's 1,270-acre Dwight B. Demeritt Forest, the nearby Penobscot Experimental Forest, in large areas of private industrial forestland and woodlots, Acadia National Park, and Baxter State Park. The on-campus Advanced Structures & Composite Lab, and the Forest Bioproducts Research Institute, provide world-class labs that advance the use of wood to meet future needs.
In addition to the current academic programs, the School of Forest Resources is currently developing a Graduate Certificate in Forest Resources that will provide needed education for professionals who need to deal with rapid advances and changes in technology, use of data, and policies.
All Forest resource students benefit from Maine's Forest Resource Community.
Student organizations include the UMaine Student Chapter of the Society of American Foresters (SAF), SWIFT (for women and non-binary), Xi Sigma Pi Forestry National Honor Society, and the Maine Outing Club.
Scholarships are supported by friends and alumni who have donated over $16 million in more than 60 named scholarship funds and endowments. The Maine Division of the Society of American Foresters (MESAF) regularly offers funding for UMaine students to attend state, regional, and national meetings.
Summer work, internships, and jobs after graduation are readily available for students. There is a diversity and abundance of positions with over 50 sources of employment.
The state of Maine and the School of Forest Resources at the University of Maine enjoy the rich heritage derived from the forests that dominate the state's landscape.