FRA Technical Releases – A Resource Guide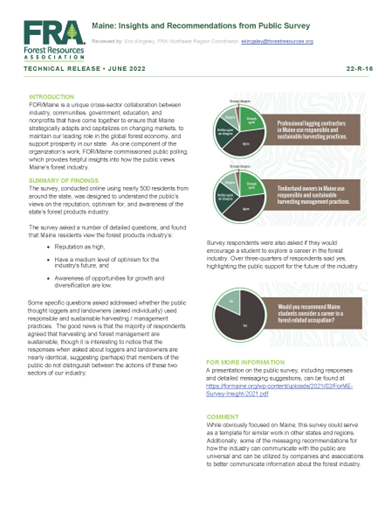 Since the 1940s, Technical Releases (TRs) have been a core resource provided to members of the Forest Resources Association. These brief, easy-to-digest summaries give you insight into innovations and ideas from across the industry.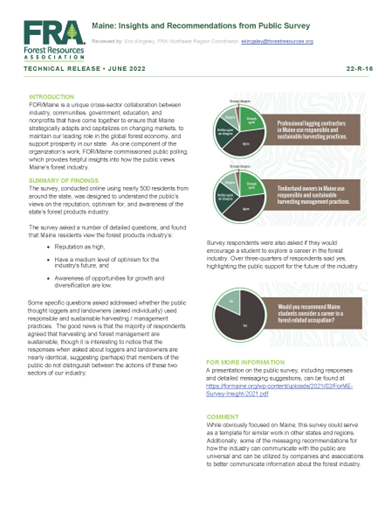 TRs review innovations, methods, or devices – often including illustrations or photos to help the reader better understand the concept being shared. Subjects range from logging tools to legislative workshops to procurement systems. Sometimes TRs are product reviews of commercially available products or evaluations of shop-built technical innovations. But topics need not be hardware; FRA understands "technical" in a broad sense – ideas on public policy, employee recruitment, and other issues are just as crucial to the forest products industry as the latest widget is.
For a recent Technical Release I authored, I wrote about a public survey conducted by FOR/Maine, a unique cross-sector collaboration between industry, communities, government, education, and nonprofits that have come together to ensure that Maine strategically adapts and capitalizes on changing forest product markets. FRA Technical Release 22-R16, Maine: Insights and Recommendations from Public Survey, provides a summary of this survey and a link to the entire report.
The TR provides a quick summary of some of the most important findings, including that to the public, the industry has a good reputation, a medium level of optimism for the industry's future, and awareness of opportunities for growth and diversification is low. Information of this nature allows the industry to craft its message better and provides a survey that can be replicated across the country.
For example, survey respondents were asked if they would encourage a student to explore a career in the forest industry. Over three-quarters of respondents said yes, highlighting the public support for the future of the industry. This is an excellent response from citizens in Maine (the survey included all regions of the state, including urban areas disconnected from the forest industry). It also would be helpful information across the country as the industry considers how to attract more people to the workforce.

Access to TRs is available to FRA members through the website and provides a searchable database to help you access the knowledge and ideas that have accumulated and shared.
Recent TRs include:
22-R-20 Pre-Bunching Trees with a Tethered Feller-Buncher on Cable Logging Increases Productivity and Lowers Costs Over Manual Felling;
22-R-25 New Data Dashboard Allows You to Visualize Forest Carbon Across Minnesota; and
22-R-24 Trimble Forestry Connected Forest™ Xchange (CFX)
Going a little further into the archives (the first two digits are the year the TR was released), you can find TRs as relevant today as when they were published:
10-R-09 Off-Road Diesel Fuel Consumption for Logging Operations;
12-R-02 Trailer Drop Yard Boosts Trucking Productivity; and
15-R-20 Keeping Fuel Consumption Data on a Logging Operation.
Technical Releases are a great resource for FRA members and a way for individuals, companies, and organizations to share products they are using, ideas they are developing, and innovations that can help the entire forest product supply chain run smoother. If you've got an idea you would like to share as part of a TR, just reach out to your FRA Regional Manager, and we'll help you get started.
Our latest issue of Technical Releases and Safety Alerts went out earlier this week. You can see a summary here. If you didn't receive this outreach via email and are a member, please reach out to Vanessa Connelly, [email protected], to make sure you are added to our communications list.