FRA 2021 Virtual Advocacy Day and Fall Board Meeting Summary of Business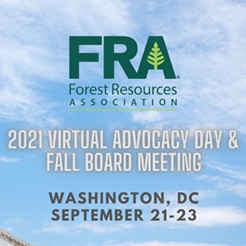 Last week, FRA hosted its first-ever Virtual Advocacy Day, with members from all across the country taking part. Participants met with 90 congressional offices, with 30 scheduled member-level meetings. This was an important opportunity to advance our priority policy issues and educate legislators and their staff on the significance of the wood supply chain. We want to thank everyone who took time out of their schedules to join us.
We kindly request that those who participated and haven't completed the feedback forms go to the Soapbox Mobile tool and select 'Meeting Feedback.' Completing this form helps FRA with the important task of continuing the dialogue with both Members of Congress who are already favorable to FRA's legislative agenda, and those who need additional information as they learn more about the issues relevant to the forest products industry.
Congressional Speakers

Rep. Kurt Schrader (D-OR-5) kicked off our Virtual Advocacy Day and spoke to the current environment in D.C. Rep. Schrader is a member of both the House Working Forests Caucus and the House Paper and Packaging Caucus. He noted he is working with the Problem Solvers Caucus to find common ground among Democrats and Republicans. The Congressman also spent some time addressing the reconciliation bill.

Rep. Bruce Westerman (R-AR-4), ranking member of the House Natural Resources Committee, was our guest speaker ahead of the Board of Directors Meeting. The Congressman spoke to the H-2B guestworker issue and his office's efforts together with FRA to receive the National Interest Exception to the nonimmigrant labor ban. Westerman stated he would continue to advance his legislation, including the Trillion Trees Act and Resilient Federal Forests Act. He noted he is hopeful that with the forest fire situation in the West, Congress will pass meaningful legislation to address the forest health crisis on Federal Lands.
Public Policy/Advocacy Committee and Virtual Advocacy Day
The Public Policy/Advocacy Committee gave a report covering the key issues addressed during the advocacy day:
Permanent and Meaningful Cap Relief for the H-2B Guestworker Visa Program
The Congressionally-mandated cap of 66,000 H-2B visas is inadequate, with the demand currently exceeding the cap of 66,000 visas by two to three times.
FRA has worked on several fronts to find a solution and sought:
Support for FY 2022 appropriations language that directs the DHS to release additional H-2B visas in an efficient and timely manner if demand is shown.
The cosponsor of permanent H-2B cap relief as a standalone measure or part of other relevant immigration legislation in the House and the Senate.
FRA helped with drafting and endorsed two bills introduced in the 117th Congress and requested members to co-sponsor: The Returning Workers Exception Act (H.R.3897), Rep. Cuellar; and the Temporary H-2B Visa Exemption for Forestry Workers (S.2207), Senator Thune.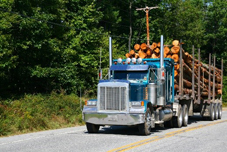 Transportation Solutions
Weight Reform

Safe Routes Act (H.R. 2213) allows trucks traveling at the maximum GVW on state roads to access the federal interstate highway system at legal state GVW for short distances.
FRA members asked Members of Congress to cosponsor the Safe Routes Act (H.R. 2213) and support its inclusion in any transportation/infrastructure package.

FRA members also asked Members of Congress to support Dry Bulk Tolerance, a provision in the House surface transportation reauthorization bill that allows a 10% per axle weight tolerance for dry bulk goods. The provision addresses issues with load shifting during travel. FRA supports the measure, particularly with clarifying language referencing forestry.

Workforce:

FRA is the voice for the forest products industry on legislative solutions to address the truck driver shortage harming the economy.
The DRIVE-Safe Act allows 18- to 20-year-old drivers to drive on the interstate after completing rigorous training and apprenticeship programs to attract new, younger drivers in the bipartisan Infrastructure Investment and Jobs Act.
The proposed Women in Trucking Advisory Board would be charged with finding ways to attract women to the truck driving workforce. Women currently represent only 10% of all truck drivers. Our request for Members of Congress is to support the Women in Trucking Advisory Board that was included in the infrastructure package.
Biomass Carbon Neutrality
FRA is working for the reauthorization of the carbon neutrality appropriations rider that directs federal departments and agencies to recognize the carbon-neutral nature of forest biomass in federal environmental and energy policy. FRA has been working with Senator Susan Collins (R-ME) on this issue, and she is committed to securing a successful outcome in the FY 2022 Interior Appropriations bill. The House passed similar language in the interior appropriations bill.
FRA is working with partners on the renewable biomass definition and attempting to work with Congressional committees on this effort.
FRA's Issue Brief on biomass carbon neutrality is available HERE.
During the Board of Directors Meeting, the work of the other FRA National Committees was also reported on:
The National Operations Committee
FRA is supporting research conducted by Dr. Joe Conrad, University of Georgia, on benchmarking log truck insurance premiums, insurance claims, and safety practices in the U.S. South. The overall project goal is to help identify solutions that improve timber transportation safety and prevent future increases in insurance premiums. Several key project objectives include:
Developing benchmarking data for log truck insurance premiums and claims history in the south;
Documenting safety practices used by survey respondents;
Comparing log trucks fleets owned by logging businesses to those owned by contract haulers;
Evaluating the condition of log trucks fleets in the region.
FRA is planning to conduct a Timber Harvesting and Wood Procurement Short Course at Auburn University, December 14th-16th. The program is designed to provide enhanced training on critical professional topics, including but not limited to: supply chain relationships; communications with stakeholders; forest products transportation and scheduling; practical ethics for resource managers; and logging cost analysis.
The committee continues its initiative to reduce logging industry serious injuries and fatalities, and recognizes the need to engage external stakeholders, primarily state logging associations and state logger training and education coordinators, to document where state training programs currently focus concerning safety training for logging.
The Supplier / Consumer Relations Committee
The committee is currently creating an inventory of logging, trucking, and mill post-secondary training to address workforce challenges. FRA will serve as an information clearinghouse to identify and potentially connect these programs. The committee is also developing a platform to collect common problems in the forest industry supply chain and seek to identify solutions from mills and suppliers around the country facing similar issues. Once issues are identified, the committee will solicit member input on how they have addressed challenges and will share this broadly, so that members can learn about strategies used in other sectors, companies, and regions.
The committee also plans to request and share information from members on expanded COVID protocols in the woods and the mills. FRA developed information on COVID in the workplace during the early days of the pandemic. Since then, much has changed, and all have adapted their businesses to provide workplace safety while continuing operations. The committee continues to seek out new and innovative ways that companies are dealing with the virus, and the protocols being put in place.
The Timber Harvesting and Transportation Safety (THATS) Foundation
The Foundation has a fund balance of $5,158 and is focusing on fundraising as its primary objective for the next year, with the goal being to get the fund balance to $20,000. THATS actively seeks donations that are used to further its mission of supporting safety programs across the country. As the Foundation has a 501(c)3 tax classification and is volunteer-run, donations are entirely tax-deductible and used to fund grant requests throughout the industry. If you are interested in donating to the THATS Foundation, please email Jacob Minor, [email protected].
Two grants were awarded earlier in the spring and the status of both grants were presented: one to TEAM Safe Trucking for their project proposal to transform entry-level driver theory (ELDT) training courses into driver refresher training courses and create an ELDT seatbelt course, tires course, and an air and brake required knowledge course, and the second to the Tennessee Forestry Association for the purpose of expanding TEAM Safe Trucking into the state.
Thank you again to those who participated, and we look forward to seeing you at the FRA 2022 Annual Meeting, May 16-18, in Hilton Head, SC.