Retaining and Developing your Workforce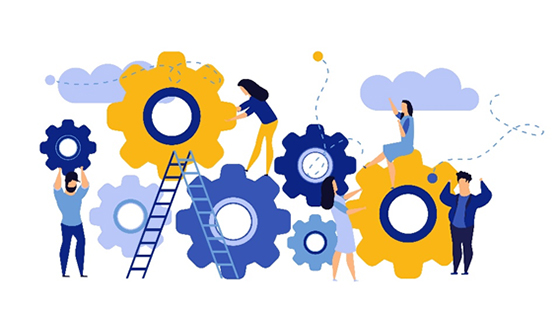 Last month, FRA President Deb Hawkinson was joined by Tonya Muse, Partner in the U.S. Corporate and Government Affairs Practice at Odgers Berndtson, a global executive search firm, to discuss how to retain and develop your workforce. In the emerging post-COVID environment, finding and retaining skilled workers is a top challenge for companies of almost every industry in the U.S. In this webinar, Tonya offered strategies and ideas on how companies can grow and strengthen their workforce to compete in today's global marketplace. As the forest products industry continues to struggle with a labor shortage, Tonya's insights proved essential.

The Current State of the Manufacturing Workforce
In March, U.S. manufacturers hired 434,000 new workers but lost 402,000. In April, manufacturers hired 396,00 workers with a loss of 417,000. Seventy-seven percent of surveyed manufacturing executives anticipate that there will be ongoing difficulties in attracting and retaining workers in 2021 and beyond.
This stagnant workforce growth was primarily caused by the retirement of the baby boomers and employees leaving their jobs due to the need for more flexibility and work-life balance. Today's employees want more of a work-life balance than was previously the norm pre-COVID. The numbers also support that women are leaving the manufacturing industry at higher rates than men. Typically, women are more likely to be the primary caregiver for children and parents, necessitating a strong work-life balance. These new expectations will require updated methods of training. Other reasons that the manufacturing industry is struggling to find workers include:
36% of students lack interest in working within the manufacturing sector. Students are not encouraged to join trades like they were in the past. There is also a lack of visibility and awareness of manufacturing jobs. Parents are not encouraging their children to work in trades unless they work in that space.
Additionally, schools are not teaching subjects and training future workers in manufacturing fields that are in the most demand for workers.
However, despite these underwhelming numbers, there is a great opportunity for growth and change!
Worker and Truck Driver Shortage
Tonya looked specifically at the truck driver shortage, currently one of the biggest concerns for the forest products industry. The American Trucking Associations estimates that approximately 174,500 replacement drivers will be needed by 2024. Over the next decade, the trucking industry will need to hire 1.1 million new drivers. This is a serious problem which FRA and others are attempting to address. One such solution is the DRIVE-Safe Act (S.659, H.R.1745), endorsed by over 120 organizations. The legislation addresses the growing shortage of professional truck drivers. Current regulations prohibit truck drivers who are 18-20 years old from crossing state lines. The DRIVE-Safe Act would allow young drivers who are certified CDL holders to participate in a rigorous apprenticeship program designed to help them master interstate driving while also promoting enhanced safety training for emerging members of the workforce. FRA will be working with the DRIVE-Safe Act Coalition to advance this legislation.
The Future of Work
As an industry, we can not go back to where we were before the pandemic. Both workers' expectations and the physical workspace itself will be different. This requires the manufacturing sector to evolve its strategies to attract and develop new talent.
COVID has accelerated the transition to innovative technologies. Going forward, there will be greater connectivity of machines, data, technology, and people. These new technologies will mean less of a need for workers to be in place physically to do their jobs. Furthermore, the regionalization of the supply chain will lead to increased automation in order for companies to remain nimble and react quickly to the ever-changing environment. This means increased use of robotics, and intelligent software. However, new technologies do not necessarily mean that existing workers are obsolete. Rather, existing workers have the potential to become more productive by leveraging these new systems of work. Existing workforces will need to be trained on how best to operate these new technologies.
Re-entering the Workplace Post Pandemic
Now that the COVID-19 pandemic is winding down in the U.S., how do you bring back workers safely? Tonya provided examples of what companies can consider implementing to ensure that their employees and workplaces are set up for success.
Safety
Safety has always been a top priority for the forest products industry. Continuing to make it a top priority in this post-pandemic period should be paramount. Businesses need to protect their greatest asset, which is their people. Companies also need to protect themselves from liability and should consider:
Implementing new cleaning and sanitation protocols.
Creating PPE requirements.
Reworking guidelines for visitors; will you take temperatures and contact trace?
Having a vaccine requirement.
Putting in place new company travel policies.
Gauging staff expectations for returning to work with staff surveys.
Reimaging the Workspace
What do the facilities look like where your employees are? During the pandemic, many office personnel worked from home. Do you expect everyone to come back now or continue to telework? Regardless, you might not require the same space requirements as necessary before the pandemic.
Workplace Culture
The pandemic has brought a renewed focus on workplace culture. Today's leaders need to lead with empathy. While not everyone has experienced COVID in the same way, we have all experienced it. Employers should have the mental health and welfare of their employees on top of mind. Consider instituting a flexible workplace with a strong work-life balance. Employers should maintain open and frequent communications with their employees and allow them to express their concerns without penalty.
Diversity, Equity, and Inclusion
During this past year, diversity, equity, and inclusion (DEI) had a renewed focus across the U.S. If you have not already, consider developing a DEI strategy. Data shows that companies with diverse teams are more profitable and more innovative. A DEI strategy will foster growth opportunities for new talent, especially as the country's demographics are evolving. Companies should build an inclusive culture so that all employees feel supported.
Workforce Retention Strategies
Finally, Tonya provided recommendations for employers looking to fill entry-level and other positions:
Connect with the community in which you have facilities. You need to create awareness of promising careers and good pay.
Outreach to high school level youth, as well as technical and trade schools will pay dividends.
Enhance training opportunities to train current employees. Look at who you currently have working for you, and train them based on current needs and gaps.
Diversify your talent pipeline.
Create an external talent ecosystem in the location in which you have the most challenging time filling jobs.
Keep your workforce skilled and trained on emerging technologies.
Rethink the ways you manage your workforce.
Focus on sustainability. This is a major requirement for Generation Z.
Leverage advanced technologies to increase digital fluency.
Provide competitive salaries and benefits.
Create a culture where employees feel valued.
Increase open communication.
Other Insights
Best place to find resources: The National Association of Manufacturers' (NAM) Manufacturing Institute has a library of resources, including webinars and research, to help employers address the workplace shortage.
Manufacturing Day: NAM's Manufacturing Day is a significant opportunity to showcase your company and its impact on the community. It provides an opportunity to present your company to students, the community, and policymakers, and change people's perceptions of your industry.
Veterans: The Manufacturing Institute's Heroes MAKE America works to prepare transitioning service members, veterans, and members of the National Guard for careers in manufacturing. While serving, members of the military are getting trained on critical manufacturing skills. Once leaving the service, these men and women enter a pool of fellow service members that can be drawn on for employment. These servicemembers want to work, and they already have in-demand skills.
To watch Tonya's full discussion with FRA President Deb Hawkinson, please click HERE.