"Let the Sawdust Fly" — A Successful Local Radio Show in Northern MN — About Logging and Forest Management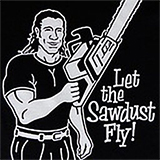 A British voice sounds off the names of trees. Among them are "the larch, the fir, the mighty scots pine, the smell of fresh cut timber, the crash of mighty trees," followed by the musical lyrics of Monty Python's "Lumberjack Song."
♫I'm a lumberjack, and I'm ok
I sleep all night and I work all day ♫
These lyrics have become the theme song that plays on every episode of "Let the Sawdust Fly," a local radio show hosted by Peter Wood on the show "SOUND OFF with Brad Bennett." "Let the Sawdust Fly" has aired monthly since 2016 on WDSM 710 AM from Duluth, MN.
Peter Wood, a third-generation logger who resides in Cotton, MN, describes logging as a hidden industry. "One of the things that makes it a hidden industry is that the normal logger doesn't want to come out and talk to the public," said Wood. In that respect, Peter Wood describes himself as an abnormal logger. He wants to talk to people. He wants people to understand more about logging, forest management, and the value of the forest products industry. "I talk about what really goes on, and I do it in a positive light," said Wood. "Because I want people who are sipping coffee and see a pulp truck pass by or people who go home and grab a toilet paper roll to understand how it got there." Wood now has a platform to talk about the logging and the forest products industry through the airwaves and podcasts.
Since its inception, "Let the Sawdust Fly" has become one of WDSM's top-rated features and podcasts. This is not bad considering that Wood just wanted to get on the radio and talk about his profession to the public. Wood thought it would just be one show, and then he would be done. After his first show, the show's host Brad Bennet said he learned so much about the industry and invited him back.
Many episodes later, Wood has no shortage of topics to discuss. Peter Wood is on a mission, and he will not stop talking about logging and forest management if people are willing to listen. "I thought it would be boring after a few months, and nobody would want to listen," said Brad Bennet. "But it's been the opposite. Peter does a great job of bringing the new guests on each month; people that have different connections to the logging and trucking industry. It's been very insightful."
As for Wood, he will continue to educate people, as he has always done, about our industry on the airwaves or in general conversation with friends or strangers. It is something he enjoys. According to Wood, "there are two types of people, those who oppose logging and those who have been educated about logging." Wood has a passion for the latter.
"SOUND OFF with Brad Bennett" airs each weekday from 8 to 11 AM on WDSM 710 AM and 98.1 FM from Duluth. "Let the Sawdust Fly" is featured on the last Wednesday of each month at 9:05 AM.
Portions of this Woods to Mill Blog were taken with permission from an article written by Fred Williston for the Lakeland Times & North River News "Logging & Forestry." Spring/Summer 2021, issue.