FRA's Guide to the OSHA Logging Safety Standards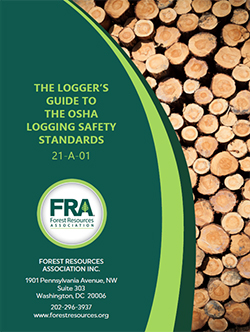 The Forest Resources Association has updated one of FRA's most in-demand publications, The Logger's Guide to the OSHA Logging Safety Standards. This well-known resource was last revised in 1995 and has been a staple in the safety component of many state logger training and education programs.
The basic OSHA Logging Safety Standards have not changed since 1995, but FRA has updated a few minor comments, interpretations, and rule references in this publication.
This new Guide (FRA publication # 21-A-01) presents the OSHA Logging Standards in an easier-to-read format than what is found in the Federal Register. FRA also provides additional clarifying comments under certain topics. The Guide is a helpful supplement to FRA's OSHA Logging Safety Training Video and the Timber Harvesting Safety Manual.
The Logger's Guide makes a valuable handout at logger training and education programs. Logging contractors will find the Guide helpful for providing OSHA training for new employees or reference or refresher training for experienced personnel. FRA members in all membership categories would benefit from reading this publication to become more acquainted with the key provisions of the OSHA logging standards.
The 31-page manual covers the following topics:
Overview – OSHA and Logging Operations
The OSH Act of 1970
OSHA Logging Operations Regulations – 1994 Final Rule
1995 Revisions to OSHA's Final Rule
General Requirements, including PPE, First-Aid Kits, Work Areas, and more
Hand and Portable Power Tools (including chain saws)
Machines
Vehicles
Tree Harvesting
Training Requirements
OSHA Information/website link
The Guide prices are $7.00 (print copy) and $15.00 (PDF download) for FRA members; double these prices for non-members. (Website login is required to apply the member discount coupon code.) Click HERE to order.