Celebrating the Forest Industry on Earth Day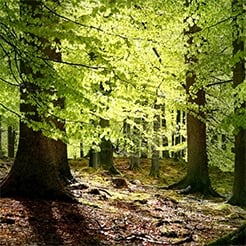 Forests, and forest products, are the solution. When we think of so many of the nation's challenges – rebuilding vibrant rural economies, managing our carbon footprint, ensuring a sustainable environment for future generations – it is clear that forests are a critical part of any viable solution. Earth Day presents us an opportunity to reflect on how vital forests and forest products are and to think about how they can be a core part of addressing some of the biggest problems that confront us.
Carbon emissions – and associated climate change – have become an increasingly visible challenge in the U.S. and worldwide. It is important to remember that forests, and forest products, are a core part of offsetting emissions. Total U.S. greenhouse gas emissions totaled 6,558 million metric tons of carbon dioxide equivalents from all sectors – transportation, electricity generation, industry, agriculture, and residential.
Forests are a crucial counterbalance to these emissions. In 2019, U.S. forests stored 58.7 billion metric tons of carbon – 95% of this was in the forest ecosystem and the remaining five percent in forest products. The carbon in forests has been increasing annually, up 10% since 1990. Forest products play an essential part in this, and in 2019 harvested wood products accounted for 1,521 million metric tons of carbon put into long-term storage.
This reality is impressive, but there is plenty of untapped potential – both to manage forests with carbon as a key product (along with timber) and for long-lived wood products to store carbon. For forests, we have seen some landowners get revenue for storing carbon, but all too often, it is in programs that discourage (or at minimum do not encourage) timber harvesting. That is now changing, with programs today that recognize the opportunities for forest management and timber harvesting to improve forest carbon stocks, including (but certainly not limited to) a program designed by the American Forest Foundation for family forest landowners. The opportunities for forest landowners to get paid for carbon – while providing a steady flow of timber – may increase dramatically in the years to come.
On the manufacturing side, putting wood into long-lived products sequesters carbon for as long as those products remain. Books, houses, furniture all represent stored carbon. But that is just the beginning – work is now underway to develop new products that displace products made with high-carbon materials like cement, steel, and fossil fuels. Mass timber (like cross-laminated timber) allows tall wood buildings to be constructed and "has the potential to substantially reduce the carbon footprint of new buildings by replacing structural concrete." New insulation products that replace fiberglass and foam are coming to market, and efforts are underway to move biochar from a niche industry to a wood-using process that operates at scale, permanently sequestering carbon.
These and many more products – some still not even imagined today – can and will be made from wood. Markets are developing that reward the carbon-sequestering (or carbon-displacing) aspect of these products – they are now established in Europe and beginning to make inroads in the U.S.
All of this – from well-managed forests through finished products – relies on a healthy, robust, and flexible supply chain. Earth Day is a great day to remember that foresters, loggers, mill workers, and others in the forest industries were "green collar jobs" long before the term was coined. We will be even more important in the coming years, as the role of forests and forest products take their place in the carbon discussion.