Resolve to Improve Trucking Safety in 2021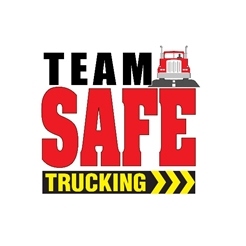 FRA members often identified trucking challenges—especially driver shortages, high insurance rates, and regulations—as key wood supply chain concerns during the last year. These concerns remain for 2021. Safety performance is a contributing factor behind these challenges and is an area where the forest products and log trucking community has the ability to make improvements.
Where do we start with our efforts to improve trucking safety in this new year?
Support and participate in the TEAM Safe Trucking Program! TEAM Safe Trucking ("TST") is a joint effort of wood producers and consumers, insurance companies, and industry associations with a mission "to reduce accidents through enhanced driver training and effective fleet management and to recruit new, safety-focused drivers to deliver a sustainable and profitable supply chain." The TST folks have produced a great number of trucking safety training courses and safety awareness items, all of which can be accessed on the TST website, www.teamsafetrucking.com.
The many TST interactive courses, mostly 10 to 20 minutes in length, cover about every trucking safety topic imaginable and are great materials to train new drivers, refresh the safety focus of experienced drivers, and remediate safety shortfalls to improve driver behavior. Anyone with ties to a financially-supporting association or business can use the materials in a group setting or, in these times of social distancing, create an online account and complete any or all of the courses from the convenience of their computer or smartphone.
TEAM Safe Trucking suggestions for you this year:
Ask your employer to become a financial sponsor of TST in 2021 if not already involved.
Encourage and expect your trucking managers and drivers to start or complete all the courses in 2021.
Ask your state's logger training and education program (Master Logger or whatever it is named) to include TST modules in its continuing education course offerings in 2021, as many loggers hold CDLs and have influence over their trucking services.
Once we get beyond the COVID-induced restrictions on group gatherings (or if you can utilize a space with proper safety precautions and social distancing already), host a group program for trucking managers and drivers. The classes are most effective when delivered in a group setting with drivers.
If you are new to the program, create your online TEAM Safe Trucking account and complete the handful of courses that are free of charge. Then financially support the program to access ALL the courses.
Contact Miranda Gowell, TEAM Safe Trucking Special Projects Manager, at

[email protected]

or 207-841-0250, for any questions you may have about TST and how to participate in and support the TST efforts.
Support TST's Entry Level Driver Theory Training (ELDT) Program – TST has also produced "New Driver Training" courses to meet the Federal Motor Carrier Safety Administration (FMCSA) ELDT mandate set to become effective in February 2022. For a $3,400 State Sponsorship fee, your state sponsoring organization can provide these 34 courses to an unlimited number of organizations in your state; the courses provide new driver training for the forestry transportation industry and will meet the ELDT Theory Curriculum Requirements outlined in the FMCSA regulation.
Sign up for the January 20 webinar to learn how easily you can use TEAM Safe Trucking to meet safety training (and documentation!) needs. (1 PM eastern time; approx. 45 minutes in duration.) REGISTER IN ADVANCE for this meeting.
Sign up for these two additional TEAM Safe trucking webinars that cover the first two (free) safety training modules:
February: Module One: Introduction to Team Safe Trucking, Driver Condition, Driver Qualification, Vehicle Condition, COVID-19, and downloading the Talent LMS app.
When: Feb 19, 2021, 10:00 AM Eastern Time (US and Canada)
REGISTER IN ADVANCE for this meeting.
March: Module Two: Clearances, Distracted Driving, Preventing Rollovers, Speeding, and downloading the Talent LMS app (to access online courses and documentation).
When: Mar 23, 2021, 1:00 PM Eastern Time (US and Canada)
REGISTER IN ADVANCE for this meeting.
Resolve to do your part to improve trucking safety in 2021.