Einari Vidgrén Foundation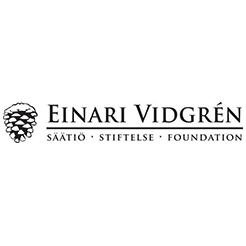 The Einari Vidgrén Foundation gives out annual awards to increase the appreciation of work in mechanized timber harvesting. The purpose of the foundation is to heighten awareness of the entrepreneur spirit in the forest sector to increase interest as a potential workplace, especially among young people.
Last year, I learned personally what this award means when Stacy Wagler (former Ponsse Business Development Manager) nominated me for recognition through the foundation named for the Ponsse founder. The nomination focused on promoting the forestry sector.
Shock set in when Stacy called with the news. There was also speechlessness. Yes – Vickie was speechless, believe it or not. My response: "But Stacy, I'm just doing my job." Surely, these day-to-day activities should not be rewarded with such an accolade. This was meant for those people that are front and center, on the ground fighting fires – literally and figuratively – every day.
While working on the best way to process this news, communicating with Regional Outstanding Loggers and Forestry Activist winners came to mind. During the announcements of the awards, a few of them may have responded with the exact words, "I'm just doing my job."
It may seem a little self-serving to use this month's blog to discuss the Einari Vidgrén Foundation, but honestly, I had no idea that the organization even existed. Did you? They have done some great work and have recognized many amazing people.
Click HERE to check out this 2016 video with some history of the Foundation.
The main reason for using this topic as my blog entry this month is to ask everyone to do a little self-awareness check. You do great things for this industry. Every day. You may not have someone in your corner as thoughtful as Stacy, but we do all have each other – and that has helped us get through some pretty crazy times. Anyone else happy to see 2020 in the rearview?
Secondly, what if we all made a resolution to recognize at least one person in the next year when we see them going above and beyond? It could be nominating someone for an award, giving someone an annual subscription to Netflix (I was going to say a restaurant gift card, but realistically that is still a stretch…), or just flat out thanking them for the passion they have for this wonderful industry that has afforded all of us an incredible journey.
And when someone recognizes you? Humbly and sincerely say, "Thank you."
Even if you do think someone else deserves the recognition more. ?
Thank you.