Give the Gift of Safety this Holiday Season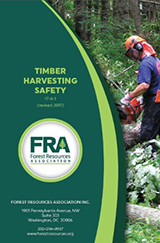 Looking for a holiday gift for your logging contractors or employees? FRA has a wide range of invaluable logging industry and safety-oriented products available for purchase.
Please note, you must be signed in to the FRA website as a member to apply the member discount coupon code. Please contact Jacob Minor, [email protected], if you need login information.
FRA Wood Supply Chain Schematic
FRA has developed a schematic that will help people understand and visualize the wood supply chain that is captured in those three simple words "woods to mill." The uses of this schematic are many, including to assist in discussions with policymakers, the orientation of new employees, briefing of customers, woods and mill tours, and informing educators, to name just a few.

Available to purchase in booklets of 50 tear-out pages for training and educational purposes.
Booklet price is $40.00 for FRA members and $65.00 for non-members.
FRA Timber Harvesting Safety Manual (17-A-1)
This well-known resource is an ideal reference guide for loggers and makes an excellent general safety manual for logger training and education programs. Additionally, logging contractors may use the material for their in-house loss control programs. Some loggers have incorporated the FRA Timber Harvesting Safety Manual into their written safety compliance policy for their logging and log trucking employees.
The 71-page manual comprehensively covers logging safety issues under the following headings: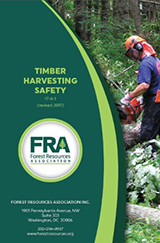 General Rules of Safety
Personal Protective Equipment (PPE) Guidelines
Safety Guidelines for Hand Tools
Safety Guidelines for Chain Saw Operations
Safety Guidelines for Woods Equipment Operations
General Operational Safety and Loss Control Guidelines
Safety in Transportation
Accident Investigations
Hazard Communications Program
Lockout-Tagout Guidelines
Emergency Care
Bloodborne Pathogens Exposure Control Plan
OSHA Information
Manual price is $7.00 for FRA members and $14.00 for non-members.
Ordering large quantities? Contact FRA's national office for pricing information.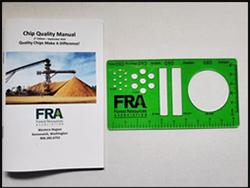 FRA's Western Region recently revised the guide 'Chip Quality Manual – Quality Chips Make a Difference.' This 3rd edition is a comprehensive summary of chip production, including chip quality, debarking, chipping, screening and conveying, and troubleshooting. New enhancements and additions include updated information on debarking, screening and chipper/canter systems. This guide has been of great value to our members over the years and is developed to support all those involved in the production and consumption of chips.
The manual is produced as a small pocket guide and is also available as a PDF for training purposes. Along with the manual, the pocket-sized chip gauge allows for quick evaluation of chip size.
FRA Members
Pocket Manual and chip gauge – $15
Pocket Manual only – $12
Chip gauge only – $12
*PDF – Single copy – $10 (Single copy complimentary with orders of 10 or more combinations)
Non-members
Pocket Manual and chip gauge – $30
Pocket Manual only – $25
Chip gauge only – $25
*PDF – Single copy – $20 (Single copy complimentary with orders of 10 or more combinations)
DVDs
FRA has a variety of safety-oriented DVDs available covering a range of topics. Please click the button below to purchase any of the DVDs listed below and be sure to login to receive reduced member pricing.
Power Line Safety and Additional Topics
Coaching the Professional Skidder Operator
Coaching the Professional Chainsaw Operator
Be Seen, Be Safe, Be Alive
In the Company of Trucks
Fire Safety
OSHA Logging Safety Training
Wood Chipper/Grinder Safety
Storm Damage and Salvage Safety
Improving Log Trucking Profitability Workshop
Log Loader Safety for Log Truck Operators
Load Securement for Logs
Skidder Safety and Efficiency
Northern Forestry Aesthetics Workshop
Timber Harvesting Deck Safety
Wood Fiber Supply Chain Relationships Workshop
Wood Roads Safety
Coaching the Professional Logger
Hazardous Chemical Spill Prevention & Control for Logging Operations
Cutting Edge of Safety
Forestry Aesthetics
Knuckleboom Loader Safety for Loggers
Best Management Practices for Professional Loggers
FRA Woodyard Safety
Note: please contact FRA's national office if you are interested in purchasing online versions of any of the DVDs above.