What Does Your Government Look Like in 2021?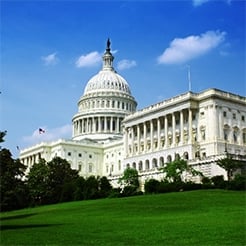 With the election behind us and a transition to a Biden Administration underway, it is a good time to assess what the leadership in Washington, DC is going to look like. What will changes at key agencies like the Departments of Labor and Agriculture as well as the Environmental Protection Agency (EPA) mean for FRA members? With control of the Senate still in the balance, what are the scenarios for committee leadership under a Republican or an extremely narrow Democratic majority? What changes might we see in key committee leadership in the House of Representatives, and how does this impact the priorities of the forest products industry supply chain?
In an upcoming webinar, FRA's Policy Team will help our members make sense of the chaos in Washington, DC and map out ways that this might impact the forest industry supply chain:
What will change (or lack thereof) in leadership of key congressional committees mean for FRA policy priorities around guestworkers, carbon neutrality of biomass, trucking, and more?
Who is being considered (or nominated, if we know by then) for Cabinet-level positions at the Departments of Labor, Transportation, Agriculture, and the EPA? What changes in policy priorities can we expect from the new Administration, and what does that mean for the forest industry supply chain?
Will a divided government (as expected) limit what can be accomplished, or does this present an opportunity to find reasonable solutions to solve real problems?
Is there an appetite for a new economic relief package, and if yes, are there ways this might support sectors of the industry that have been hard-hit by the recession and pandemic?
What are the opportunities for FRA and its members to pursue policies that benefit the entire forest industry? And where do we expect to have to work hard to prevent negative policies from being enacted?
Join FRA's Policy Team for our webinar on Thursday, December 3rd at 2:00 PM (Eastern) to hear about these issues and more:
Deb Hawkinson, FRA President
Tim O'Hara, FRA Vice-President of Government Affairs
Patrick Rita, President of Orion Advocates and FRA Consultant
To learn how a reshaped Washington will impact your business and how FRA will be advocating for policies that support a healthy and sustainable forest industry supply chain in this new political environment, register for the webinar today.
Note: One Category 1 SAF Continuing Forestry Education Credit is available for participating.