Tapscott Brothers Logging, Inc: FRA's 2020 National Outstanding Logger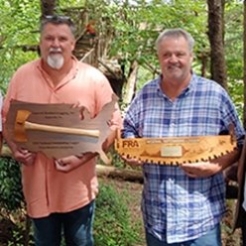 On August 22, the Forest Resources Association (FRA) and STIHL Incorporated honored Tapscott Brothers Logging of Scottsville, Virginia, as FRA's 2020 National Outstanding Logger. (Earlier this year, the Tapscotts won FRA's Southeastern Region Outstanding Logger Award and then were selected by a national panel of judges as the U.S. winner from among FRA's six regional winners.)
Charles "Binky" Tapscott and Troy "Guke" Tapscott started logging with their father, Harvey, in the 1980s, when they were only in their late teens. They have steadily grown the operation into the current business that now operates five logging crews and one chipping crew, numerous company-owned and contract trucks, and a large inventory of mostly-in-house-built log and chip trailers. The Tapscotts' multi-faceted harvesting operations deliver wood to numerous mills throughout Virginia and beyond. Additionally, the Tapscotts' outstanding ability to maintain logging equipment led them to form their own logging equipment dealership, Forest Pro, affiliated primarily with the Tigercat brand. Forest Pro now has three locations across central Virginia.
The Tapscotts have a long history of innovating. They were one of the first logging contractors in Virginia to employ a farm tractor with a "street sweeper" brush and a water truck to clean the roads if their truckers happened to track any mud onto a public roadway. Binky and Guke have always been mechanically gifted, building their own gate delimbers and fabricating their own log trailers. Binky created his own version of a chain flail delimber and patented a reversible slasher saw. They also created their own gigantic clambunk trailer for long hauls from the woods to the log deck and are now experimenting with a drone for monitoring the progress of their crews' forest harvesting and BMP work.
The Tapscotts are known across Virginia for their ability to conduct all types of timber harvests, and they receive high praise from the landowners whose timber they harvest. Proud of their work, Binky and his team have often cooperated with the Virginia Department of Forestry and local schools to allow students and others to observe their harvesting operation and learn more about logging and forestry.
The Tapscotts became big supporters of the Log A Load for Kids program soon after it first started in Virginia. Additionally, Binky Tapscott has been a longtime member of the Virginia Forestry Association (VFA) and the Virginia Loggers Association (VLA), and he serves on the VLA Board of Directors. Each year, he and other forest industry members visit Virginia's legislators and educate them on important forest issues in Virginia and the nation. Binky and his wife have made numerous visits to Washington, DC, with the VLA as part of the American Loggers Council's annual legislative Fly-Ins.
The Tapscotts maintain close contact with their insurance carriers and provide regular safety training and safety meetings for all their woods and trucking employees. All their trucks are equipped with GPS and some with dash cams. They contract with a safety consultant to provide additional safety training and participate in a random drug-testing program for all employees.
Impressively, the Tapscotts have won FRA regional Outstanding Logger Awards three times now, spanning three decades: In the Appalachian Region in 1992 and in FRA's Southeastern Region in 1998 and 2020.
The FRA 2020 National Outstanding Logger Award prizes—a large, black walnut wooden award plaque from FRA and a $1,000 check provided by STIHL—were presented to Binky and Guke by FRA Appalachian Region Manager Rick Meyer at the luncheon of the Virginia Loggers Association Board meeting in Columbia, VA on August 22. VLA and VFA jointly submitted the Tapscotts' nomination for the FRA award program.
FRA's Outstanding Logger Award program is designed to raise the visibility of professional logging contractors and to encourage other loggers to adopt the performance of the award winners. FRA annually awards six Regional Awards (one from each of FRA's geographic regions in the U.S.) and one National Outstanding Logger Award. STIHL Incorporated has served as the sponsor of FRA's Regional and National Outstanding Logger Awards for over thirty years.