Industry Partner Project Helps Forest Bats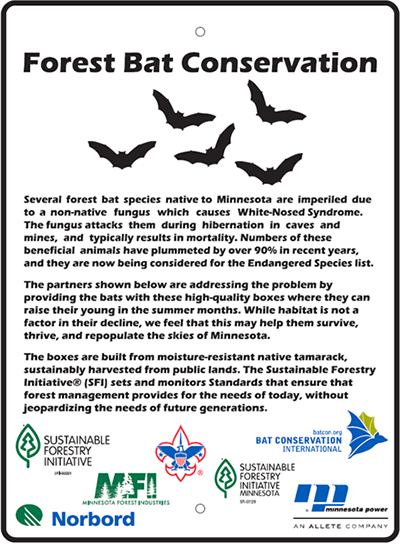 On a recent sunny late summer day, dozens of members of the Voyageurs Area Council of the Boy Scouts of America were building rocket-style bat boxes as part of a community service project. The roughly 100 boxes will be erected on Minnesota Power lands in St. Louis County, Minnesota, in a partnership designed to help the dwindling number of forest bats in the region. Voyageurs Area Council Scout Executive Michael Jenkins says, "This project is a good fit for the Scouts. The kids and adult supporters are completing a community service project that will benefit wildlife for years to come. They also learn not to fear bats, but to understand their important role in nature."

Cave-hibernating forest bats are in dire straits across the US. In 2006, biologists in New York found dead and dying bats with a fuzzy white fungus on their faces. Subsequent research identified the non-native fungus Pseudogymnoascus destructans (Pd for short) that was causing the disease, which they dubbed "white-nose syndrome" (WNS). WNS causes hibernating bats to wake up from their slumber and fly around, depleting their energy and water reserves and causing their deaths.

In the ensuing 14 years, WNS has marched steadily across the United States. As of summer 2020, bats in 35 states and seven Canadian provinces have been confirmed with the disease. Pd was found in Mystery Cave in southeastern Minnesota in 2011, and WNS was first found in the Soudan Mine near Ely, MN, in 2015. Since then, it has resulted in a more than 90% reduction in winter bat numbers in these two largest hibernating locations.

Minnesota is home to six bat species. The silver-haired bat, eastern red bat, and hoary bat are solitary, roost in trees, and migrate south for the winter. But the little brown bat, tri-colored bat and northern long-eared bat roost in colonies and hibernate in caves in winter. These are the ones that are in trouble. The northern long-eared bat was federally listed as Threatened in 2016 and is currently being considered for Endangered Species classification.

Bats use sustainably managed forests to meet their daily and annual needs. They feed on a rich diet of insects while flying over forest openings, they travel down logging corridors, they roost in hollow trees, and they raise their single pup on maternal roost trees – often older trees with loose bark. Their preferred habitat is abundant in Minnesota, where it is provided through active forest management. Thoughtful timber harvesting results in a mosaic of forest types and ages while maintaining reserve trees and set-aside areas. It also maintains vegetative diversity, creates wildlife habitat, protects water quality, and sustains other ecosystem services and values.

These principles are the heart of sustainable forestry. Minnesota's forests are managed by highly trained professional foresters and loggers, with direction from public input, management plans, and site-level guidelines. Most primary forest products companies and large landowners are also enrolled in voluntary forest certification programs. The Sustainable Forestry Initiative (SFI) is the largest such entity in North America. SFI has developed Standards and Objectives for forest management and fiber procurement that maintain and improve the ecological and social values of forests. SFI Program enrollees are audited by third parties to ensure that they are abiding by those Standards and Objectives.

The bat box project was initiated by the Minnesota Sustainable Forestry Initiative® (SFI) State Implementation Committee (SIC) – representatives of certified organizations and other groups involved in professional forest management. They secured an SFI Community Outreach Grant to help fund the project. SIC member company Norbord, Inc. sustainably sourced tamarack logs from certified state lands. Tamarack is known for being rot-resistant and is in trouble in Minnesota due to an eastern larch beetle infestation. The logs were cut into boards by A&C Lumber in Park Rapids, then into dimensional pieces by Wicks Wood Products of Walker. Bat box design and technical advice were provided by Bat Conservation International to ensure they were optimal maternal roost boxes for forest bats. Minnesota Forest Industries staff administered the grant and hauled the components to the Voyageurs Area Council's property in Duluth. After the Scouts assemble and stain the boxes, which are mounted on 16' poles, they will be hauled to Minnesota Power's lands and erected.

Project SIC Committee Chair Jerry Richards of Norbord points out, "It is exciting to see so many partners pulling together to benefit a declining forest species by using sustainable forestry to address the problem!"

While habitat is not the reason for declining bat populations, the boxes should help them. Melissa Boman, a Mammal Specialist with the MNDNR/Minnesota Biological Survey, says, "We have learned bats surviving from WNS will play an important role in the recovery of bat populations impacted by the disease. Enhancing summer habitat for maternity colonies and growing pups through bat boxes and artificial roosts could provide an effective management strategy for conserving these incredible insectivores."

The partners hope that this project will also help the public understand that bats are a beneficial part of forest ecology. And we hope they will continue to be around to eat a lot of mosquitos too.