FRA Member Profile: A.M. Logging, LLC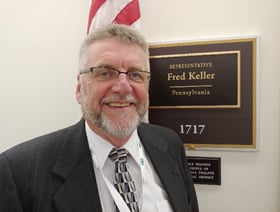 Andrew Miller and Mark Byler—the "A" and the "M" in A.M. Logging—worked very well together in a sawmill and on log home restoration projects. But eventually, they started cutting timber on evenings and weekends. They formed their harvesting operation in 2007 at the young ages of 20 and 23. People underestimated this central Pennsylvania (Millheim, PA) pair in their early years, not fully recognizing the ingredients their business had for success: Mark had great intuition and business acumen, and Andrew had an amazing work ethic and just plain "hustle." Andrew's father, Wes Miller, brought his decades of experience in insurance and financial planning into the business on a part-time basis, too.
An FRA Wood Supplier member since 2013, A.M. Logging has established itself as the "go-to" operation when mills need large volumes of material quickly: a mill in "hardwood country" needs lots of softwood in a hurry; a mill needs FSC-certified wood ASAP; Pennsylvania state forest land needs someone who can perform an improvement cut over a large, difficult-to-access area where mostly just the low-grade hardwood timber will be cut.
A.M. Logging buys tracts in advance to anticipate customers' needs. The fully mechanized, multiple-crew operation is among the highest-production logging operations in the state, focusing mostly on low-grade and mat logs; pulpwood; and flail chips used for paper, medium-density fibreboard (MDF), and wood pellet production. A.M. Logging can move several hundred trailer loads of forest products per week from woods to mill in Pennsylvania and surrounding states by truck or rail. The company is always willing to explore any option necessary to help a customer or potential customer in need, no matter where the location. The company also has a full-service construction side consisting of multiple dozers, excavators, haul trucks, and roller and grader to assist with any road and landing construction necessary to gain access. Some of their large projects require miles of new road construction.
Wes Miller sold his insurance business in 2017 and came on board as A.M.'s Business Development Manager. He also became very active on public policy issues that affected the company's business. Wes has participated in FRA's last two legislative Fly-Ins in Washington, DC, and I can testify that his legislators in DC (and in Harrisburg, PA) know him on a first-name basis! (Photo below shows Wes outside Congressman Keller's DC office during the 2019 FRA Fly-In.)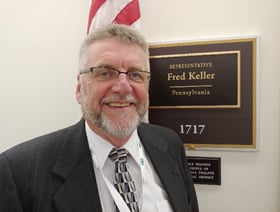 As Wes observes, "a legislator or other official can increase your operating costs and even put you out of business when they propose or enact regulations without understanding the impacts." An industry activist, Wes currently serves on the Board of Directors for FRA and the Pennsylvania Forest Products Association. He is an FRA Appalachian Region Policy Committee member and sits on the Pennsylvania SFI State Implementation Committee. Wes was also a past president of the National Federation of Independent Business (NFIB) in his state.
Wes finds FRA membership an excellent source of information on public policy issues that impact the forest products community. And his company relies on FRA Safety Alerts and other FRA safety publications and postings for much of its internal safety training material.
What is A.M. Logging's most significant challenge ahead? Counteracting the continuing shrinkage of markets for low-grade/low-value wood in Pennsylvania and neighboring states. Wes says: "Markets for low-value timber are essential for good silviculture. Even the sustainability of high-grade hardwood sawtimber depends on the improvement cuts in the woods that remove the poorer-quality trees and enhance the growth of the best trees left on the site." Wes would like to see more recognition of and policy support for wood/cellulose-based energy—a steadier energy source when compared with wind and solar.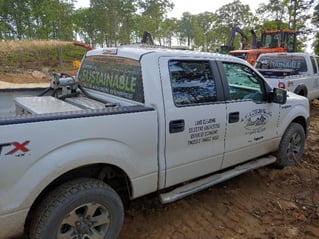 The folks at A.M. Logging are true timber harvesting professionals, upholding safety and environmental standards while engaging with the public. They have an excellent website with lots of educational information and even a short video or two. Take a look!