Talking Timber Podcast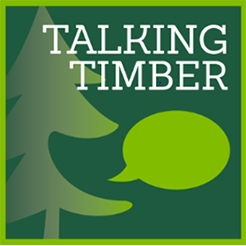 In April of 2020, the Pacific Forest Foundation launched a weekly podcast – Talking Timber. The podcast is sponsored by the Pacific Logging Congress and TimberWest Magazine.
In the United States, the number of people listening to podcasts is growing. 62 million people listen to podcasts weekly and 16 million consider themselves "avid podcast fans." The age of podcast listeners skews young: 37% are 12-24 years of age, 40% are 25-54 years of age, 23% are 54 years of age or older.
Because of the above stats, the Foundation members felt the goal of reaching a larger and younger audience could be met. We must ensure we are communicating with all tools available to us – but be mindful of which tools are being used and by what audience. Podcasts are an exciting new way for our industry's messages concerning job opportunities, innovative technologies, and safety (especially relevant during this National Safety Month), to directly reach a younger and engaged audience.
As an FRA member, you will recognize the most recent guest of the podcast: Deb Hawkinson, FRA President. Listen now here or at www.pacificforestfoundation.org and www.pacificloggingcongress.org. You can also subscribe to Talking Timber using podcast apps like iTunes, Stitcher, and Spotify.
If you want to listen now – go ahead. I will wait.
She was fabulous, right!? Way to represent, Deb!
There are many other great podcasts available to enjoy. Diane Mettler, Pacific Logging Congress Executive Director, has interviewed these guests so far:
Court Stanley – Port Blakely US.
Roger Smith – RL Smith Logging.
Diane Washburn / Jill Bell – Women in Timber.
Fran Cafferata Coe – OFRI/Wildlife Biologist (a two-part podcast).
Preston Green – Miller Timber Services/CTL Operation Specialist.
Ken Schirman – Triad Machinery.
Jim Peterson – Author "First, Put Out the Fire!"
Beth Krisko – Forests Today & Forever.
Future planned podcasts include:
Russ Vaagen – In a two-part podcast Russ will talk about his company's amazing story of mass timber in the Pacific Northwest.
An interview with students from a successful diesel mechanics program.
CJ Shipley with PayneWest Insurance will discuss navigating the rules after COVID-19.
"We are excited about Talking Timber," says Pacific Logging Congress President, Wayne Settle. "The podcast allows us to get out a positive message about the industry to an audience with busy lives."
"Whether you have been in the industry for years, are thinking about forestry as a career, or are just curious, I think there is something for everyone," says Mettler.
What podcasts would you like to hear? Diane is always looking for the next guest or for a specific topic that you would like to see covered. Please send her an email with any suggestions at [email protected].
About Pacific Logging Congress
The Pacific Logging Congress is an association of representatives from the forest management, harvesting and production side of the forest industry in the Western United States, British Columbia, and New Zealand. Membership consists of managers, owners of logging companies, lumber mills, forest products companies, equipment manufacturers, and dealers.
About Pacific Forest Foundation
The Pacific Forest Foundation (PFF) is a nonprofit foundation formed in 2003 dedicated to public education about forests and forestry issues. The PFF programs provide information about a balance between forest management and environmental protection. Each year the foundation provides critical scholarships and educational opportunities to forestry students.
Contact
Diane Mettler
email: [email protected]
phone: 360-832-1745
website: www.pacificforestfoundation.com