How Other Manufacturing Industries are Promoting COVID-19 Safety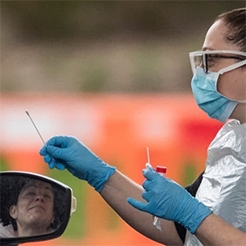 Throughout the COVID-19 pandemic, the forest products industry has emphasized the importance of taking steps to be safe. However, to make sure our industry is staying at the forefront of instilling a safety culture this National Safety Month, it is essential to look beyond the forest products industry and take in examples from other manufacturing industries on how they are promoting safety during COVID-19.
The National Association of Manufacturers (NAM) is a national trade association located in Washington, DC, representing 14,000 member companies from every industrial sector in the United States. During the pandemic, NAM has released excellent safety guidance for manufacturers which is also relevant to members of the forest products industry, including:
Information on testing that can help businesses keep their workers and communities safe, available here.
A webinar on public health and industrial cleaning best practices concerning COVID-19, available to download here.
In addition to providing outstanding safety guidance, below are helpful examples of what other manufacturing companies are doing to promote safety in their workplaces and industries, including:
"A Manufacturing CEO Explains His Pandemic Safety Plan" – A CEO describes his company's approach to employee safety which includes how the company keeps its employees safe on the roads, deals with incoming shipments from suppliers, and promotes social distancing. This article is available here.
"COVID-19: Two Manufacturers Share Real-World Strategies" – This summary of a Manufacturing Leadership Council meeting details information on communication strategies, return to work guidelines, and travel and visitor policies set up to keep employees safe during the pandemic. This article is available here.
"A Visit to Hersey During the Pandemic" – NAM staff visited the Hershey facility in Hershey, PA, to see firsthand the experiences of employees working in manufacturing during the pandemic at a plant and safety precautions that were practiced. This article is available here.
As a member of NAM, we want to thank them for the many resources that they are making available. FRA will continue to provide information and share best practices on how businesses are safely navigating operations as the country reopens.