How About Some Good News for a Change?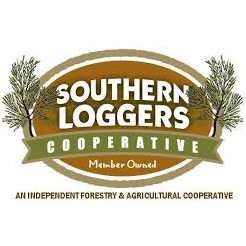 As we do not hear a lot of good news these days, I think it is time for some. At our Southcentral Region Spring Meeting this past March, one of our presentation topics was The Southern Loggers Cooperative (SLC). Many of you are familiar with them, but for those of you who are not, it is important to know what this organization does for our supply chain. I reached out to Todd Martin, the President and CEO of SLC and asked him if he would put together an update to share with all members. The following is a brief history of the beginnings, recent successes, and future plans for The Southern Loggers Cooperative. Thanks, Todd.
– – –
The Southern Loggers Cooperative (SLC) was formed in the fall of 2004 by a group of nine loggers that met in my hometown of Winnfield, Louisiana. This group had a thought and a prayer. That is what they worked from. The SLC was chartered by the Secretary of State in Louisiana as an Agricultural Cooperative on October 15, 2004. By the end of 2005, the first station was opened in Winnfield, and the Southern Loggers Cooperative has not looked back. With that being said, none of us would have ever thought that we would be where we are today.
Our membership fee is a ONE TIME – LIFETIME FEE of $100.00 and membership is open to the following (any agriculturally based company or individual):
Loggers
Forest Products Truckers
Silvicultural Contractors
Forest Road Contractors
Forest Landowners
Recyclable Truckers
Farmers
Ranchers
Horticulturists
Viticulturists
Members of other Agricultural Cooperatives
The Southern Loggers Cooperative rolled into 2020 with a new drive, determination, and a fresh set of strategic planning items to tackle over the next one to one and a half years. Coming off our best and most successful year since our formation in 2005, there was no reason to let off the gas. The 2019 calendar year was a record one for the SLC with over 44 million gallons pumped out of our stations, over 1.8 million gallons sold in bulk fuel, over 145,000 gallons of Diesel Exhaust Fluid pumped, and over $111 million in total sales which resulted in over a $1.5 million patronage dividend to our members. These dividends will be mailed out to our members by June 15, 2020. One hundred percent (100%) of our net profit each year is paid back to our members depending on their amount of participation.
Our staff and team, along with our board of directors, realized that the best time for our cooperative to develop a strategic plan was while we were at our most successful and not in a down time or time of crisis. That is exactly what we did when our board members from all over the country came to Alexandria, Louisiana, in August of 2019 for a strategic planning session facilitated by Rick Meyer of the FRA.
Coming out of that strategic planning meeting, there were many topics covered and many goals set in place as we moved forward. The highlights of those strategies were as follows:
Retrofit Diesel Exhaust Fluid (DEF) into all our older existing stations over the next 1.5 years. We realized that, in order to remain a convenience for our members, we must provide DEF at those stations. This project is a $1.3 million project for the SLC, and we are approaching the halfway point of its completion.
Add two new staff members (Stations Manager and Controller), bringing our total staff members to eight. With 31 fueling locations and with two more under construction, we felt that we were to the point where we needed a position just to manage the stations, oversee our part-time custodians, oversee construction projects, and manage our parts inventory. Just that part of all that we do is, at least, a full-time job for one person. Pumping over 44 million gallons of fuel per year, which represents about 2,000 transactions per day and with over $111 million in sales, we were at a point where a controller was needed for us to remain efficient in every aspect of the SLC. As of April 13, 2020, the Stations Manager has been employed, doing a great job, and has already saved money for our members. The timing of the Controller Position and COVID-19 caused us to stop our interview process until the pandemic restrictions have been lifted. We will resume that process as soon as we can.
Add an additional fuel broker to provide fuel to our eastern stations. We have been fortunate to have had an amazing fuel broker that has completely bought into what we do and to helping our members since 2007. We continue to do the vast majority of our fuel business with that same fuel broker. As we continue to grow, we realize that it is very important that we do not have all our eggs in one basket, "so to speak." This move was made for no other reason than to protect our members and our ability to make sure that we can always provide fuel with no disruptions. As of April 1, 2020, the SLC added a second fuel broker to provide fuel to our stations and bulk members on the East Coast.
Open three new stations in 2020. Two of those stations (Crawford, MS, and Demopolis, AL) with a total investment of approximately $1 million are almost complete and pumping. COVID-19 has slowed those projects down, but with some luck, they will be pumping by the end of May.
Close in the gaps of states where we do not have stations located at this time (primarily Arkansas, Georgia, and North Carolina). We do not have any of these locations nailed down at this point, but we are aggressively working on property in each area.
Aggressively pursue other products and services in addition to those that we currently offer. Adding the two additional staff members will free up time for other staff members to pursue additional products and services that will save our members money. We currently offer fuel, DEF, parts, tires, forestry supply products, health insurance, safety services, environmental services, and truck rebates through the American Loggers Council. Many of these new products and services are currently being worked on as we move forward.
Become an even greater voice of support for our members. We realize that the products and services that we provide save our members money by giving each member a huge amount of buying power. However, we also know that when we can support our members by being a voice on political and other issues will also save them money. We intend to support our members in that way in every opportunity that we can.
To date, the SLC has 31 fueling stations located in seven states with two more to go on-line within the next month. Over 3,500 members located in 24 states have joined the Southern Loggers Cooperative, and that number is growing at an average rate of 38 members per month. Through 2019, over 316 million gallons of fuel have been sold, representing a savings of $31 million (conservative estimate) to our members. Through 2019, over $10 million has been paid back to our members in the form of patronage dividends.
Companies that we have partnered to communicate with the logging force and secure locations most convenient for our members are as follows:
Weyerhaeuser
WestRock
International Paper
Georgia Pacific
Pixelle Specialty Solutions
The Westervelt Company
Roy O. Martin Lumber Company
Graphic Packaging
Drax Biomass
Hunt Lumber Company/LaSalle Lumber
Temple-Inland
Boise
Associational Partners that we are currently working with are as follows:
Forestry and Logger Associations in Texas, Louisiana, Mississippi, Alabama, Georgia, South Carolina, North Carolina, Virginia, and Ohio
American Loggers Council
Great Lakes Timber Producers Assn. (GLTPA)
Forest Resources Association (FRA)
Team Safe Trucking (TST)
U.S. Endowment for Forestry and Communities
As I am in the middle of preparing this update for the FRA, COVID-19 is in full effect. The SLC has been truly blessed during this pandemic. We have had normal to even higher production out of our stations. During the first full week of May, the SLC stations set a new overall weekly record of diesel fuel sales, with over 971,000 gallons pumped out of our stations. That broke the previous weekly record by 30,000 gallons. This is not because of anything good that we have done. It is, however, evidence of the resiliency of our members. The loggers, forest products truckers, forest industry, farmers, and agriculturalists have been up against tough odds for decades and have always battled through.
Our promise to the industry and, most especially, our SLC members is that we will continue to provide products and services that you can depend on to save you money while remaining as efficient as we possibly can.