A New Harvesting System in the Appalachian Mountains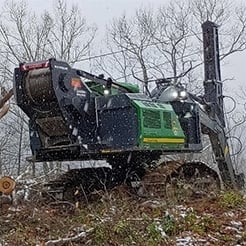 This winter, I observed what might be the most interesting and innovative timber harvesting system to be tried in the Appalachians in the last three decades: The cable assist/tethered logging system that was started in New Zealand and has proven successful in steep, rugged terrain in the western U.S. A similar setup is now operating in the mountains of southern West Virginia. Mountaineer Forest Management, a subsidiary of FRA-member company Lyme Timber, is managing the property on which the harvesting is occurring and has provided much of the financial and logistical support for the operation. (See video footage here.)
FRA Technical Release 17-R-18 (website access required) describes a similar "tethered" system using cut-to-length equipment out west. The West Virginia operation is using mostly John Deere tracked machines where a tracked feller-buncher cuts and bunches the timber while tethered to another machine at the top of the slope. Then mobile, tracked yarding machines pull all the cut and bunched timber to the top of the slope by means of a grapple and carriage traveling along a cable.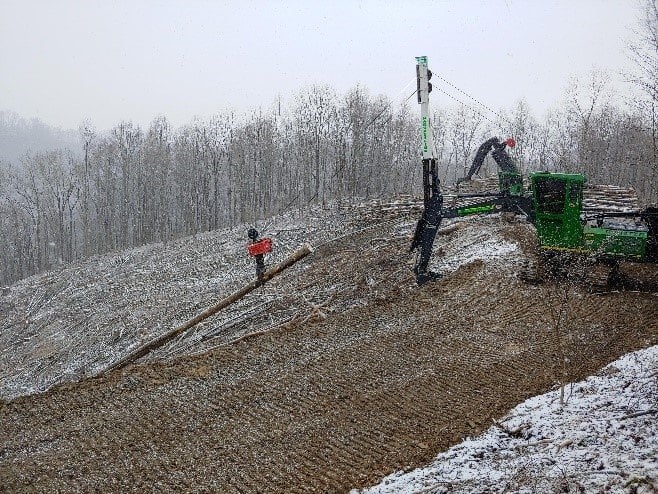 There are no on-the-ground workers felling timber or setting chokers. This improves the safety of the operation and makes steep-slope logging more feasible.
FRA members will be able to see this operation during the Appalachian Region Fall Meeting Field Trip on September 23.
In past decades, large wood consuming and landowning companies often provided logistical and financial support to try out new operations that held promise for improving the safety or efficiency of forest operations. This practice is not as prevalent today.
I commend Mountaineer Forest Management and Lyme Timber for bringing this interesting harvesting system to the Appalachians and hope that this new venture proves highly successful.