FRA's Online COVID-19 State Tracker Tool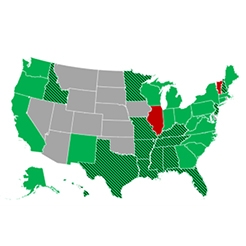 As our industry responds to the current pandemic, FRA is committed to promptly providing valuable and accurate information. I am interested in hearing from you, our members, on how we can be of help or if there is a topic you want to hear more on. Please contact me at [email protected] or 703-850-5478.
FRA has an online tool to help track any COVID-19 related restrictions on the forest products industry on a state-by-state level. This is a one-stop resource where you can learn what impact (if any) executive orders and other government action is having on the forest industry, and is the first thing you'll find at our website www.forestresources.org
At the federal level, the Department of Homeland Security has deemed forest industry as "critical infrastructure", and noted the importance of "workers who support the manufacture and distribution of forest products, including, but not limited to timber, paper, and other wood products." While this is helpful, it is important to recognize that this is an advisory to states, who are able to adopt their own rules and restrictions.
FRA's tool looks at the ability of a number of sectors to operate – logging, lumber and panels, pallet manufacturers, biomass electric / wood pellet manufacturers, and pulp and paper mills. This is crowd-sourced and will be updated daily as the situation evolves and new information becomes available. We invite you to use this tool and ask that you send information (including relevant website links whenever possible) if you see information that is incorrect, incomplete or has changed. Just email Jacob Minor at [email protected], and we'll make sure our next update reflects the latest information.
As the COVID-19 pandemic impacts our members and our industry, FRA wants to help provide accurate and timely information. We hope you'll find this tool useful and invite you to share it with others.