H-2B Visas and COVID-19 Pandemic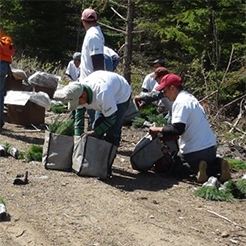 Soon after the announcement by the Department of Homeland Security (DHS) to release 35,000 supplemental H-2B visas, the COVID-19 virus placed a grip on the world. The administration and Congress all turned their attention, and rightfully so, to mitigating the impact of the virus and began to work on an economic stimulus bill that would provide a lifeline to businesses and families. The release of supplemental H-2B visas set to begin on April 1, will certainly be delayed for an unknown amount of time.
The impacts of the COVID-19 pandemic have created a great deal of uncertainty in the H-2B visa program. H-2B workers already in the country with expiring visas are having difficulty making it back to their country of origin. Other nonimmigrant workers are in business sectors that were so heavily impacted by COVID-19 that employers can no longer afford or have a need for the workers. The processing of H-2B visas has slowed significantly as many U.S. embassies and consulates have suspended visa services. This will delay when workers arrive in the U.S. with start dates of April 1st or later.
With all this uncertainty many employers are waiting for guidance from the DHS. An important measure that needs to be implemented is extending the H-2B visas that are expiring for workers that may not be able to return home due to travel restrictions. For these workers, and the businesses that no longer need H-2B workers due to the economic impacts of COVID-19, there is a need for a process that expedites the transfer of these workers to businesses that still have a need for employees.
In terms of forestry work, the impact of COVID-19 may be less as it relates to having workers in place. Employers of forestry workers apply for nearly 80 percent of their H-2B visas during the first half of the fiscal year. These workers likely were here prior to the outbreak of COVID-19. The challenges for these employers will be navigating the restrictions placed on domestic travel and state executive orders that restrict workers. And when the work is done, travel restrictions abroad may make it difficult or prevent nonimmigrant workers from returning to their country of origin.
FRA's legislative efforts on the H-2B front have stalled. During this time, we will continue to provide information to members to move legislation that will seek a permanent solution to the H-2B cap in the 116th Congress.
In the meantime, it's important that we all recognize the incredible response that Congress and so many others have made to minimize the impacts of the COVID-19 virus on Americans.
If your business has been impacted recently and FRA can be of assistance, please contact me at [email protected] or (218) 390-7965.