The THATS Safety Meeting App is a Useful Tool for Forestry Companies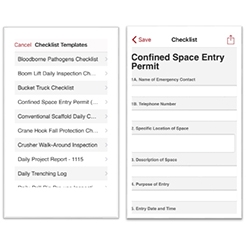 The National Timber Harvesting and Transportation Safety Foundation (THATS) Safety Meeting App can provide valuable training and documentation services to any size forestry company. THATS has worked with SafetyMeetingApp.com to offer five-person complimentary annual memberships.
Recently, I had the opportunity to be trained by SafetyMeetingApp.com Service Agent Jenny Hernandez on how to use the app. I found the process simple, the app easy to use, and concluded that it would be a useful tool for any size forestry company.
Background
The Safety Meeting App organization was created in 2012 to help ensure construction contractors were able to meet safety training requirements and proper documentation as required by OSHA more easily and effectively. The app eliminates the need for carrying around heavy binders and filing paperwork at the office. Safety Meeting App makes keeping up with paperwork in the field simple and makes it easy to train field or remote workers.
My Experience Using the App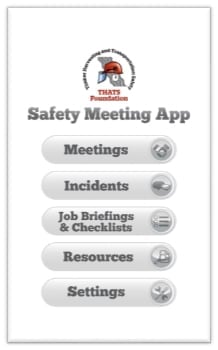 When you first log in to the app, you arrive at the home screen which shows the different features available. Here, you can decide if you would like to record a meeting, review or record past safety incidents, fill in safety checklists, or access the THATS Foundation website through Resources.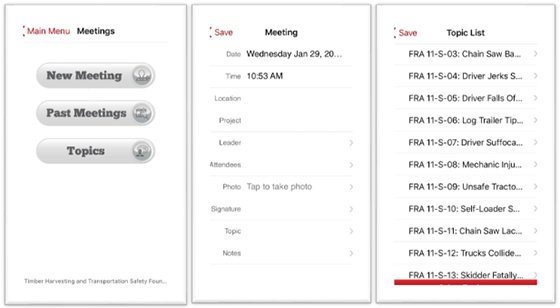 On the Meetings page, you can easily record a new meeting on a safety topic or review past meetings. Meetings can be well documented as you can include the meeting location, date and time, attendees, the topic of the meeting, etc. On the Topic page, you can review nine years of FRA Safety Alerts that are included on the app and determine which one best suits your safety priorities. Users can generate detailed safety reports once the meeting is complete with your company's name in the heading that can be printed, saved, or e-mailed in a PDF format. PDF meeting reports can be e-mailed directly from the app.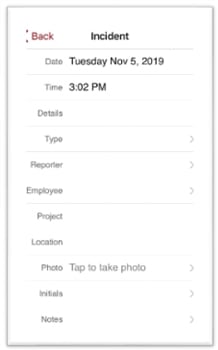 The Incident page allows users to input the details of various safety incidents that take place at your company. It is convenient to have these all in one location and easily accessible on your phone. The app allows incident reports to be generated quickly and accurately and provides a resource for companies to help prevent incidents from reoccurring.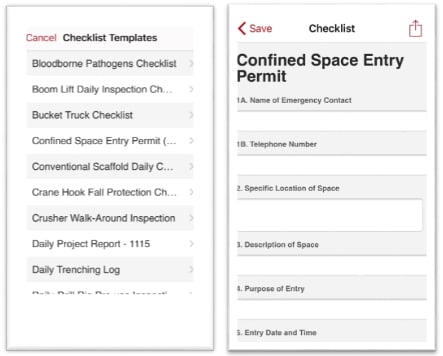 On the Checklist page, users can review a variety of checklist topics. Employers can easily request that employees guarantee safety compliance on these issues. By using the safety checklists, you will be able to document and securely record potential hazards with the push of a button. There are over 30 different safety checklists, and more are being added.
Ultimately, I found THATS Safety Meeting App to be user-friendly and would recommend to any size forestry company. THATS has free one-year sponsorships available. If your company would like to give the Safety App a try or are interested in more information, please contact Jacob Minor at [email protected].