2020 Mapping the Course Conference – Vancouver, Washington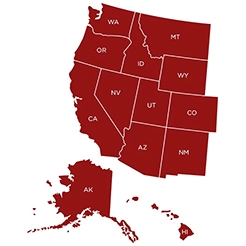 For the second year, Western Forestry and Conservation Association, Wood Resources International, and FRA's Western Region collaborated on last week's Mapping the Course conference in Vancouver, Washington. This is the seventh annual conference, but just the second one in which FRA has been involved in with the planning and logistics. For those who attended, we are continually looking for feedback – please let me know what you appreciated about the conference, and those things you would like to see changed.
On January 22, the conference kicked off with the Optional Workshop. Two presenters represented different leadership aspects for success within any company today:
Working Across Generations / Unconscious Biases

Mike Burnett with Empire CAT held an interactive workshop focused on working across the five different generations who make up today's workforce.

Achieve Better Results in all Business Metrics by Getting Safety Right

David Libby with Krause Bell Group conducted an interactive and informative workshop on 7 Insights Into Safety Leadership, a very different approach to workplace safety. Determining which safety incidents a company should focus on to best improve their business was one important topic discussed.
The addition of a networking Icebreaker Reception and Dinner completed the first day.
January 23 was the full-day conference: Mapping the Course. The day was packed full of experts from different portions of the supply chain.
The morning presentations:
Paper and Forest Products: Strong Housing Backdrop Should Support a Rebound in Wood Product Prices – Hamir Patel, CIBC World Markets
Outlook for Sawlog and Pulpwood Prices in Western US and Western Canada – Håkan Ekström, Wood Resources International
Federal Forest Lands Issues 2020 – Tom Schultz, Idaho Forest Group
Strategic Issues for US PNW Timberlands in 2020 – Jason Spadaro, SDS Lumber
US PNW Sawmill Sector – Steve Courtney, Roseburg Forest Product Co.
US PNW Pulp Mill Sector: Rough Seas Ahead for the Foreseeable Future – Jeff Walton, Cascade Pacific
The afternoon presentations:
BC Interior Log Supply Issues – Brad Bennett, Interfor
Log Supply Challenges on the BC Coast – Albert Nussbaum, Forest Analysis and Inventory Department, BC Ministry of Forests, Lands and Natural Resource Operations
Hogfuel and Power Generation Trends for 2020 – Greg Frohn, Avista
PNW Transportation Issues – Dale Lemmons, Signature Transport
Ranking Markets for Timberland Investment: Focusing on the Pacific Northwest – Brooks Mendell, Forisk Consulting
The conference wrapped up with a closing reception that gave the attendees one more chance to have the all-important ability to network with colleagues that they may not see until the next FRA event.
The presentations from all speakers are on the FRA Members Only portion of the website. There is much insight and knowledge included in the .pdfs. Check them out here: WR Meeting Presentations. (Note: For help logging into the FRA website, please contact Jacob Minor, [email protected])