Interview with a Philmont Visiting Forester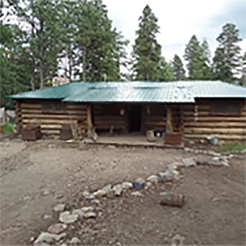 Last year, I wrote about the opportunity to Volunteer to be a Visiting Forester at Philmont Scout Ranch. This is a fantastic chance for foresters to spend a week educating youth from around the country about forests and the forest industry in the mountains of Northern New Mexico. Chris Becklean, a forester with International Paper in Mississippi, volunteered this past summer and shared his experience with the Forest Resources Association.
FRA: What stands out from your week as a Visiting Forester at Philmont?
Chris Becklean: This was a beautiful and rewarding place to spend a week. I got to teach kids from around the country about forestry, watch the sun rise over Cathedral Rock with a cup of coffee in my hand, and enjoy camp-made biscuits and honey every evening. I also saw some wildlife – mule deer, elk, sign of mountain lion.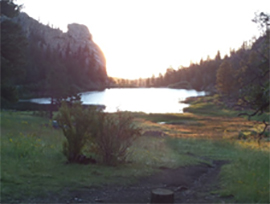 FRA: Tell me about your role as a Visiting Forester.
CB: I worked at the Demonstration Forest, located near where many crews start or end their trip. The biggest area of interest was the Ute Park fire – you could look across the valley and see the fire scar (the Ute Park fire burned through a large part of Philmont during the summer of 2018). I taught youth from all over the country – and a crew from England – about the forest ecosystem, the role of fire in the Southwest, and some basic forestry concepts. You get a great chance to provide some basics of forestry to youth and leaders, people that are naturally interested in the outdoors.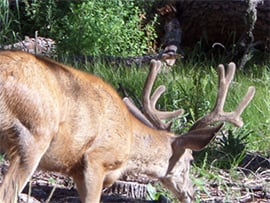 FRA: How were the living arrangements?
CB: The accommodations were surprisingly nice – I had a large tent with a platform floor, and a cot with a mattress. Because I worked about a mile from Hunting Lodge (the camp where I stayed) my Visiting Forester partner Bob and I had trail breakfasts and lunches – the same food the Scouts were eating on their trek. Dinner was prepared by the staff at Hunting Lodge, and we enjoyed the evening program of making biscuits in a wood fired oven.
I lived and worked at an elevation of about 8,000 feet for the week, which is about 8,000 feet higher than my home, but didn't have any issues with altitude or hiking to the Demonstration Forest. I had cell service at the Demonstration Forest (but not at the Hunting Lodge), so I could keep in touch with family.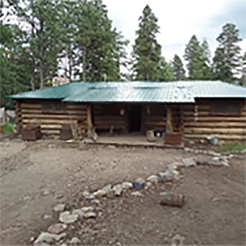 FRA: You are a Southern forester. Was it hard to learn about the Southwestern forests?
CB: The concepts of forestry and fire are the same everywhere. I did get to learn some new things about the Ponderosa Pine ecosystem, and saw some of the things I learned about years ago in Dendrology class. You have to remember you see the crews for a little while – for a brief lecture, or an hour hike through the forest. I wasn't teaching a graduate level course – I was introducing the concepts of forestry in the most natural location. And the kids were eager to learn.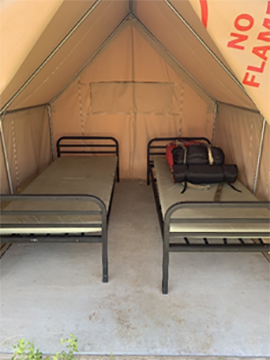 FRA: Would you recommend this experience to other foresters?
CB: Well, I enjoyed it enough that I signed up to do it again this summer. It was worth every moment.