The Effects of the H-2B Cap are Far-Reaching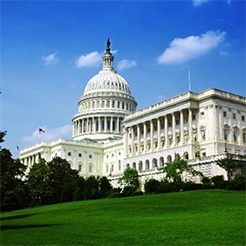 Last week I participated in a Capitol Hill Fly-In organized by the H-2B Workforce Coalition, of which FRA is a member. Representatives from the National Association of Landscape Professionals, the Seasonal Employment Alliance, AmericanHort, and the Golf Course Superintendents Association were also in attendance to advocate for H-2B cap relief to be included in any final FY 2020 Homeland Security appropriations legislation, Continuing Resolution, or omnibus spending bill that is negotiated.

As we are all too aware, guestworker visa reform is a top priority for our sector as an industry which relies heavily on guestworkers to hand plant trees following a harvest operation – arduous work, and not appealing to many given its itinerant nature. Many have stories of trying – unsuccessfully – to find a domestic source of labor that would address their business needs, but it is proven U.S. citizens simply do not want this work. Businesses across the country who rely on guestworkers are struggling to survive due to record low unemployment, a worker shortage, and an arbitrary cap on the number of H-2B workers putting the jobs of their American workers at risk.

The dire need for workers is real:
The H-2B program's congressionally mandated cap of 66,000 visas – determined back in 1990 – is inadequate to meet the current labor needs of seasonal businesses.
The current national unemployment rate is 3.6%. The U.S. Department of Labor (DOL) continues to report the number of job openings exceeds the labor pool. The perception that increasing the cap on guestworker visas will result in jobs being taken away from Americans is spurious at best.
Seasonal workers provide an opportunity for U.S. businesses to operate at a greater capacity. 1 H-2B worker supports 4.6 U.S. workers.
Although we regularly hear firsthand from FRA members how this cap negatively impacts their businesses, it was interesting to hear from other industries who are affected:
The landscape contractor with a staff of 4,000, who requires and relies on a seasonal workforce of 800, and his challenge of trying to find a naturalized American citizen to do the backbreaking outdoor work required in landscaping in the Atlanta summer heat. The notion of calloused hands and hard labor, not just for one day but for months, is not attractive to most, but particularly the high-school and college-aged young people who may have been willing to take on these jobs years ago. His temporary workers, mostly from Mexico, come in, earn a good wage, pay taxes and social security, and gladly return to their families at the end of the season with no interest or desire to stay here. He can no longer vie with some of his competitors who are not as diligent about following the legal process, and are hiring undocumented workers at low hourly rates.

The golf superintendent from Kiawah Island who has come to see his seasonal workers more as family than employees, and as vital contributors to the local economy. For him, as for many, finding workers to fill important but low-skilled golf course maintenance positions is a problem, especially in remote areas, and where other seasonal industries compete for workers in a limited labor pool. Golf course operators generally have a short timeframe to hire people and are often remote from bigger labor populations, making it particularly challenging to find people to work on their courses.

The manager overseeing an interstate construction project, whose contract has a timeline to finish various milestones and a provision for the Department of Transportation to assess a monetary penalty if the timeline is not met. Major road projects are complex and require a multifaceted team of both skilled and unskilled labor. A shortage of guestworkers means he ends up taking his crane operators and engineers and putting them to work as traffic flaggers holding the stop sign along the roadside, which in turn has a cumulative negative impact on the efficiency of his operation.

DOL sets the rates to pay these workers – the widely-circulated theory that employers are using H-2B visas as a means to pay lower wages and improve their bottom line at the expense of U.S workers is a fallacy. Before recruiting, guestworker employers must prove there are no U.S. workers who are able, willing, qualified and available to do the temporary work. It can then take 60-90 days to get a visa application approved. There is a lot of documentation to complete, and any errors in filing result in long delays. One fly-in participant shared how he was required to provide his payroll records for the two previous years showing the difference in payroll figures with and without his H-2B workers, to further prove the seasonality of the workforce. It is a great deal of work, and it is fair to say most would not spend that amount of time, effort and resources unless there were a genuine, urgent need.

The effects of the H-2B cap are far-reaching. FRA continues to advocate for legislation to be passed to address the cap and provide a permanent solution to the seasonal labor crisis. Reforestation is at the core of our commitment to sustainability, and without adequate guestworker availability, we risk reneging on this commitment – which has consequences for both the environment and jobs up and down the supply chain.