FRA Lake States Region Recognizes Outstanding Logger of the Year, Forestry Activist, and Retiring Logging Business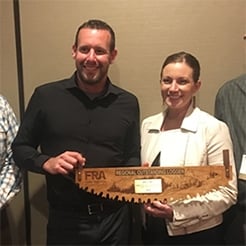 The Forest Resources Association (FRA) and STIHL Incorporated honored JATCO, Inc. of Duluth, MN as the Lake States Region (LSR) National Outstanding Logger at FRA's LSR Fall Meeting in Duluth on October 8. FRA LSR Chairman Matt Carothers of Superior Woodlands Company, along with Rick Horton of MN Sustainable Forestry Initiative Implementation Committee, presented Jeremy Stecker of JATCO a plaque, a STIHL chainsaw certificate, and a $250 check from STIHL Incorporated recognizing the honor. Upon receiving the award, Stecker donated the check to Log A Load For Kids – Gillette Children's Hospital, MN.
Jeremy Stecker, the owner of JATCO, was very gracious upon receiving the award. He thanked the many public land managers for their efforts in managing the forests. He also thanked his family for their support. "I'm honored to receive this reward, and I'm very grateful for being recognized as the Lake States Region Outstanding Logger," said Stecker.
Tim O'Hara, FRA's Director of Government Affairs and Lake States Region Manager, said, "JATCO is well-deserving of the Regional Outstanding Logger of the Year recognition. Jeremy Stecker has a passion for logging and doing logging right. He harvests a logging site following the state's forest management guidelines, which was evident after I visited a site he was operating. The timber harvested will be used to make wood and paper products and the site will be regenerated to a new young forest that will provide important young forest habitat for many wildlife species."
In April 2019, JATCO was also recognized as the Minnesota Logger of the Year by the MN Sustainable Forest Initiative Implementation Committee.
FRA additionally recognized long-time dedicated supporters of FRA who will be retiring: Bud DeLano, and Randy and Debby Blomberg.
Bud DeLano, with Ahlstrom-Munksjö, received the Lake States Region Forestry Activist Award. This award recognizes an individual for his or her efforts in promoting the industry. DeLano has been active in the forest products industry as a forester for most of his career. DeLano currently serves as chair of the FRA National Operations Committee. "I've never really thought of myself as an activist. I thought my role over my career was to plant the seed, nurture it, and watch things grow," said DeLano. I'm not sure there's a better definition of activism. Congratulations Bud!
Randy and Debby Blomberg run a successful logging and trucking business headquartered in Ogema, WI. Blomberg Logging, Inc. was presented with an Honorary Lifetime Membership to FRA. Blomberg Logging was recognized by FRA as the LSR and National Outstanding Logger in 1996 and 1997 respectively. Randy Blomberg served on the Board of Directors of FRA, Wisconsin Professional Loggers Association, and the Forest Industry Safety Training Alliance. Debby Blomberg was active in Women and Timber and was a recipient of FRA's Forestry Activist Award in 2004. Upon receiving the recognition, Randy Blomberg was thankful for a successful career in the logging industry. "Things in the logging business have changed, and many of these changes present challenges to our sector, I wish the industry success in the years ahead," said Blomberg.