FRA Discussion Leader Training Guide – Updated and Available for Free Download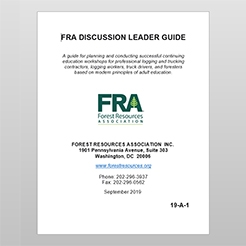 Nearly every forested state in the U.S. has Logger Training and Education (LT&E) Programs. Since the 1990s, most of these comprehensive training programs have offered both loggers and wood procurement personnel continuing education opportunities covering a variety of timber harvesting topics. And with the recent development of the TEAM Safe Trucking curriculum, there are now many continuing education opportunities for truckers. Additionally, many states have registration or licensing continuing education requirements for foresters.
Think back to the continuing education workshops or classes you have attended that relate directly to your profession. You probably gained the most long-term benefit from the classes where the instructor asked questions of the participants and encouraged you and the group to share your knowledge and experience on the subject being addressed. The "instructor" was acting mostly as a "facilitator" or "discussion leader" and was not giving a long lecture.
The lecture method works best when the subject matter is technical, complex, and/or a new area of learning. But often there aren't enough experts to staff the number of workshops needed to reach widely dispersed individuals in rural or forested areas effectively. Or maybe the expertise and new content is provided on a video. We must then rely on volunteers to help with the program. These volunteers may be knowledgeable and motivated to learn more about the chosen subject but might not consider themselves experts. Unless they've had some experience in teaching adults, they will need to find an educational method they can use and be comfortable with.
Over the years, FRA has trained many individuals as workshop discussion leaders. Our 1996 publication on this subject, Leading Workshops for Loggers and Foresters Using Modern Adult Education Methods, has just been revised and is available on the FRA website at no charge. Download this FRA "Discussion Leader Training Guide" here and learn how to better facilitate continuing education programs and group discussions.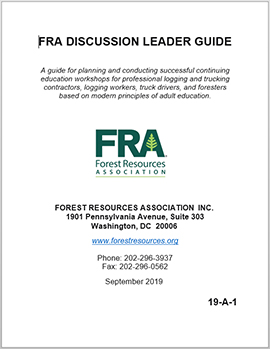 The principles and advice in this guide apply to a wide variety of group gatherings. I have used these principles for years when facilitating FRA's Supplier-Consumer Relationships Workshops, logging or forestry workshops for groups, and even in areas outside of my profession where "I have to lead something" in a group setting.
Everyone who facilitates statewide logger training and education program classes, TEAM Safe Trucking training modules, or forestry-related workshops will benefit from the information and advice found in this guide. Download it now and put the ideas into practice. You—and the group participants–will be glad you did.