Hurricane Preparedness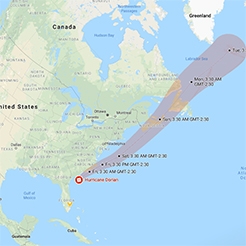 Hurricane season is here. The damage these powerful storms can cause to forestland is immense, and recent in our memories due to the devastation caused by Hurricanes Florence and Michael last year. More than $2 billion in timber loss was caused by Hurricane Michael alone. Everyone's top priority in these catastrophic events is safety. In their aftermath, loggers and the forest products industry are the best resources to clear forest access roads, salvage timber, and begin the renewal of the forestland.
Last year, Congress recognized that forests damaged by hurricanes need to be renewed. This means clearing downed timber, site preparation, and planting. The disaster relief bill passed by Congress, which FRA and many other associations worked to advance, provided landowners with financial aid for debris removal, reforestation, fuel reduction, and recovery of the lost timber value. This was the first disaster relief bill to provide recovery of lost timber value to landowners.
In the past, FRA published a Technical Release that outlined the necessary steps foresters and landowners can take to prepare for a hurricane. FRA is sharing this release in this week's Woods-to-Mill post. This TR will assist land managers in safely preparing a job site for a hurricane event.
Although it is difficult to predict exactly where and when a hurricane will hit, being prepared is critical to safely navigating through the damage a hurricane can cause. FRA staff hopes you find the information provided in the "Preparing your Jobsite or Facility for A Hurricane" Technical Release valuable. I leave you with two quotes to ponder:
"It's tough to make predictions, especially about the future."—Yogi Berra
"Before anything else preparation is the key to success." —Alexander Graham Bell