Developing Technology for the Forest Industry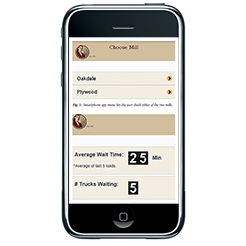 With a smartphone in almost everyone's pocket, opportunities to use technology to improve the forest industry supply chain are growing. While we've seen increasing amounts of technology development in equipment, it strikes me that there is an enormous opportunity to help the forest industry supply chain better inventory, track, manage and communicate its work.
A few months ago, I had the opportunity to give a talk at StartUp Maine, a conference that brings together innovators from a broad range of industries to discuss ways that we can build technology to help solve problems. My talk, Developing Technology to Serve Traditional Industries, focused on ways that technology companies can work with traditional industries – particularly the forest industry – to build solutions.
My talk was to a room full of people that know how to code, and can make computers and smartphones do amazing things, but don't know much (anything?) about the forest industry. After explaining the industry supply chain – from the woods to the mill – I emphasized how each party has its own role, and there may be things that work well for a landowner that are of little interest to a logger (of course, they may have shared needs as well).
A quick brainstorming session during my talk highlighted areas where loggers, foresters, landowners, truckers and mills might benefit from new information-based technology. These include:
Tracking a product from the resource to market (particularly as it relates to sustainability and / or certification claims);
Trucking dispatch and coordination;
Measurement;
Safety;
Compliance; and
Training.
I'm sure there are plenty more options, and each of these topics could be filled out in detail. There are many tasks that loggers, foresters, truckers and mills perform every day. The industry's challenge is to clearly describe what these tasks are, and how using technology could make the work faster, more accurate, or immediately accessible to others in the supply chain.
I would like your help. Think about the things that you do every day (or every week) and consider whether having a phone app or computer program that helped you out might have some benefit. Would having the inventory on a log landing available to others (truckers, mills) in real time help the entire operation run smoother? Would inspections of timber harvesting operations be faster and smoother if data was instantly entered into a searchable database, and allowed you and your colleagues to look for trends and focus your efforts on areas that need the most attention? These are just a few examples – meant to get you thinking.
Please send me an email at [email protected] letting me know how an app, computer program or similar tool might make your workday more productive. Don't worry that it might be hard to code or serve a niche audience – just think about what would work for you and your team. Also, if you are using some technology developed for another industry sector, please let me know about that.
I will compile the information I receive and use it in a future blog post. By developing a "wish list" of ideas, we can show companies looking to work with forest industries where opportunities might exist.
I look forward to hearing your thoughts.