A Young Leader in the Wood Supply Industry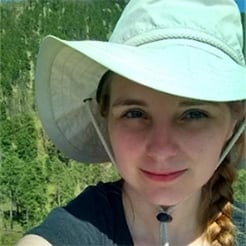 I have always had an interest in nature, so when I decided to go to college I knew I wanted to include this interest in my area of study. Originally I started pursuing a double major in biology and environmental science. After my first year of college biology classes, it became clear to me that I wanted to work with something I could actually see. There was something about having to be hunched over a microscope watching a dirt-sized speck of life move around while my contacts quickly dried out that was not particularly appealing to me.
I did enjoy the atmosphere of the college I was attending, however, so I decided to look into other programs at my college. At first, I considered sticking with the environmental science half of my original intended majors. Then after reviewing my interests, hearing what other students had to say about their experience in each program, and learning what the geology program covered, I decided to abandon biology and environmental science for geology.
This change to geology worked out well as I enjoyed the subject, but when I started applying for jobs, I kept trying to find a way that my education and experiences could allow me to work in the field of natural resources outside of aquifers and oil. I liked the idea of working with nature and sustainable resources, but I just wasn't sure that hiking around mapping an area to find which way lava flowed over a million years ago was the best way to do this. I was trying to stay in Wisconsin, while also looking for the stability that a desk job could bring.
While looking for jobs before the end of my last year of college, I happened upon the position I now hold at Ahlstrom-Munksjö. I hadn't realized just how sustainable the paper industry could be until I found a posting looking for a wood scaler. After reading the job description, I thought it sounded amazing, but I did not plan to apply because the position required a degree in forestry. In many previous cover letters, I had advocated that my degree in geology qualified me for a position involving environmental science, but I wasn't sure how well I could relate geology to forestry. Sure, both majors likely require chemistry and I had also taken two semesters of biology from being a biology major my first year, but I was thinking this might be quite the stretch. I was not sure if it was worth trying.
My father worked at this very mill in the wood yard for almost forty years. I knew he loved his job; he always seemed to be excited to go into work, and he would tell me stories about his coworkers. I had heard so much about his work while growing up, but the idea of working there had never occurred to me as an actual possibility. When I told him that I had seen the posting and was interested, his eyes lit up with joy to think that his daughter could work with him. I mentioned the reasons I thought I would never make it to an interview: I had not even attended a school that offered a major in forestry, and I was going to be gone for a month during the summer to finish my last field class. He and my mother both encouraged me to try anyway. The most the hiring manager could do was toss out the application.
Evidently, the hiring manager did not throw out my application. Instead, I was able to not only start in the summer before my class but also take the month away from work to be in South Dakota for my field class. The fact that the company was willing to put that much faith in me reassured me that it was a good company to work for.
On a daily basis, I scale in trucks using our scaling software, communicate the destination of these trucks to the crew in the wood yard, and complete a large volume of paperwork. The paperwork is mostly centered on inventory for our Kaukauna yard and offsite yards, but we also handle all incoming and outgoing rail transactions. A large portion of what I do also involves communication with drivers, suppliers, our procurement team, and other employees of Ahlstrom-Munksjö.

Similar to my father, I began to love coming to work each day. Working with the procurement team here is uplifting and they have offered immense amounts of support from the time I started. Unlike some companies, where the support is limited to job functions and tasks, this company and the people working for it additionally offer support on furthering your education or looking to advance within the company.
Once I began to see the opportunities for advancement within the company, this was the final push I needed to go back to school for a forestry degree. Currently, I have plans to start out at Fox Valley Technical College for a Natural Resources Technician associates degree. I plan to later transfer to University of Wisconsin Stevens Point to finish a bachelor's degree in forest management. I plan on continuing to Stevens Point because the last two Ahlstrom-Munksjö scalers have gone there, one of which is still finishing up his studies and working with the company as a buyer/forester. It is important to me that I will be able to continue working with the procurement team here while finishing up my studies.
Once I have finished my degree in forestry, I hope to be able to move up to become a forester/buyer for Ahlstrom-Munksjo. Until then, I still believe furthering my education will give me a greater understanding of how forestry knowledge intertwines with the paper industry, and help me to understand how my department works with the rest of the facility to produce the finished product.