Washington State Working Forests Clarification Bill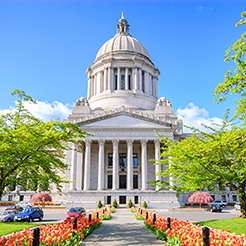 On April 8, 2019, Washington Governor Jay Inslee signed HB1011 into law after the bill received unanimous approval from both the State House (March 7) and the State Senate (March 29).
It is very fitting that the law to protect owners of working forests from nuisance lawsuits was signed during April – the same month that we celebrate Arbor Day. (If you missed Rick Meyer's blog earlier this month on Arbor Day, check it out here: Arbor Day and the Forest Industry. It's a good one to revisit).
In 2009, the Right to Farm Act was amended to include working forests within the state. Essentially, the law states that someone cannot purchase land adjacent to a working forest and then sue them for being a working forest. The original protection was provided to Washington farmers in 1979.
The issue with the 2009 legislation was that it failed to include an important component of the protection. The real estate disclosure form did not state that the Right to Farm Act also included any working forests. Without this clarification for land purchasers, the inclusion of working forests to the Right to Farm Act was moot.
House Bill 1011 clarifies this important distinction. Beginning in January 2020, the verbiage will be clearly stated to include working forests in any real estate disclosure statement: "This notice is to inform you that the real property you are considering for purchase may lie in close proximity to a farm or working forest. The operation of a farm or working forest involves usual and customary agricultural practices or forest practices, which are protected under RCW 7.48.305, the Washington right to farm act."
The bi-partisan sponsored bill adds clarity to the Right to Farm Act, but more importantly, it could be the introduction to forestry that many new or relocating homeowners need to understand the importance of viable and successful forests. Another potential positive outcome would be the chance for forest managers to have conversations with their new neighbors on how the future needs to be shaped with healthy forests, and how ongoing relationships can benefit everyone.