Volunteer to be a Visiting Forester at Philmont Scout Ranch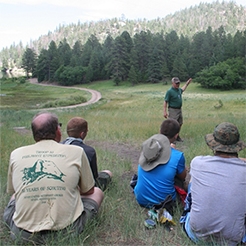 If you were ever in Boy Scouts, you know the magic allure of Philmont Scout Ranch. In the Sangre de Cristo Range of northern New Mexico, Philmont is the nation's premier high adventure base. With 214 square miles of rugged New Mexico mountains, approximately 23,000 scouts from across the country and around the globe hike on over 400 miles of trails each summer. If you are a forestry professional, I would like to invite you to spend a week as a volunteer Visiting Forester at Philmont this summer.

In 2002, Philmont – along with several partners – developed a demonstration forest located in a central backcountry setting with foot traffic of 5,000 hikers and approximately 1,000 other visitors each year. Philmont continues to support this forestry outreach program by hosting Visiting Foresters throughout the 2019 camping season.

This year the need for forestry education and foresters is greater than ever. In 2018, the Ute Park Fire burned a significant portion of the central part of Philmont, scorching about 28,000 acres of the Philmont backcountry. The role of Visiting Forester will be especially important in helping Philmont participants understand fire and forestry. Approximately 40 forester volunteers are needed for one-week assignments during the 10-week field season.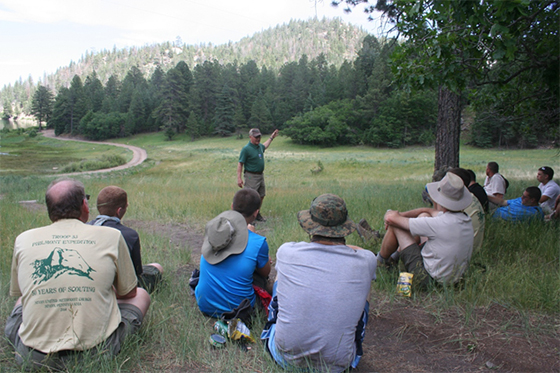 A Visiting Forester teaches a crew from Pennsylvania about forestry principals.
Serving as a Visiting Forester allows you to experience Philmont from a truly unique perspective. You'll be a (temporary) part of the backcountry staff, and have lots of opportunities to interact with campers and their adult leaders, teaching about forestry and fire ecology. Some things to know:
One week slots run from June 8 through August 18;
Four Visiting Foresters are needed each week, two each for sites in the northern and southern parts of the ranch (so you'll have a partner);
Philmont will provide you with a handbook covering the forests and fire ecology of Northern New Mexico, and you'll be able to apply your forestry knowledge in a new environment;
Interactions with hikers can range from brief discussions during a hike, a talk at lunch, or multi-hour lessons on forestry;
You'll be provided accommodations at a staffed backcountry camp, eat with the staff, and stay in a platform tent during your volunteer week;
You can expect to hike about a half mile from the camp where you're staying to the forest where you'll be teaching each morning (and you'll need to hike a half mile back if you expect to make dinner);
You are welcome to bring a spouse, but you can't bring children or pets;
Men and women who have been part of Scouts – or have never been involved in scouting – are welcome; and
If selected, you'll need to pay your travel to Cimarron, NM, pass a medical exam and register with Scouts.
The Forest Resources Association isn't part of Philmont's Visiting Forester program, but recognizes what a great opportunity this is to expose young men and women – future leaders – to forestry and the profession. On a personal level, I served as Philmont staff for three years while in college (those of you that know me will recognize this was not a recent job). I can assure you this is a spectacular location, full of great people, and I promise a week you will never forget – personally and professionally. For a Visiting Forester application, please email me at [email protected]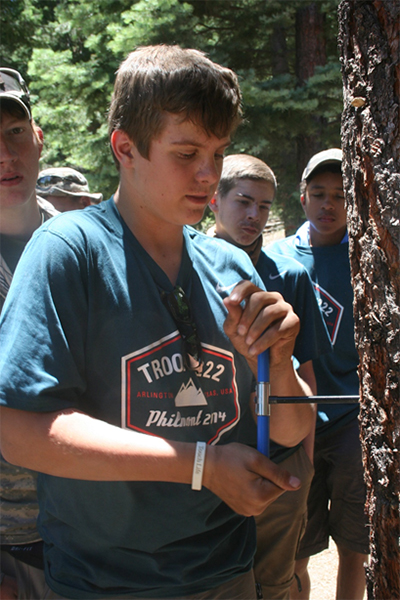 A Scout from Arlington, TX increment bores a Ponderosa Pine. Photographs by Rick Thom, Philmont Visiting Forester in 2018.