Maine's Forest Opportunity Roadmap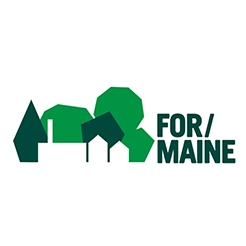 Maine's forest industry has been through a few rough years. In the last several years, there have been six mill closures and half of the state's softwood pulpwood market have disappeared. In a state where one out of every 24 jobs is tied to the forest products industry, supporting and growing the forest economy is critical to the success of the entire state (and region).
Recognizing the need to address this challenge, an industry-led collaborative group formed bringing together state trade associations, non-profits, federal resources and the University of Maine. This group – known as FOR/Maine (Forest Opportunity Roadmap – Maine) – has developed a strategic plan to encourage private investment in Maine's forest products sector, and address key opportunities and challenges faced by the industry.
FOR/Maine presented at FRA's Northeast Forest Forum in February, sharing information they have developed on how to move Maine's forest economy forward. Part of the group's work includes an analysis of areas where Maine has a competitive advantage. These include:
A strong and diverse wood supply, with a great deal of spruce-fir available in the coming years;
Existing timber harvesting and logistics infrastructure, so critical for moving wood efficiently from the stump to the mill;
Timberland that is almost exclusively in private ownership;
Proximity to the population centers – and markets – along the eastern seaboard; and
The University of Maine, with world-class research capabilities, a history of industry collaboration, and a pipeline of trained graduates.
One interesting area was a Global Market Analysis of a wide range of products from industry standards like structural lumber and OSB to emerging technologies like biofuels, chemicals and cross-laminated timber. The group looked at each product on a range of factors – from market maturity to fit for Maine – helping identify where opportunities might exist to expand Maine's industry.
FOR/Maine came up with several well-supported goals to help grow the industry in a way that benefits all stakeholders:
Sustain and grow Maine's existing and emerging forest products economy, reaching $12 billion in economic impact by 2025 (it is an $8.5 billion industry today);
Manage the wood resource using sustainable and responsible forest management practices;
Prepare the workforce for the future of the forest products economy;
Increase prosperity in Maine forest economy communities, especially those in rural Maine, including those affected by mill closures; and
Organize the forest products industry with committed public sector partners, including the University of Maine, to implement the vision and goals.
Maine's forest products industry is already starting to rebound, with significant investments in new and expanded capacity taking place in all sectors of the industry. The work done by FOR/Maine is well positioned to help support and guide that growth and can serve as a model for other states and regions that want to support growth in their forest sector.
FRA members can view the FOR/Maine presentation here.
More information on FOR/Maine, including links to many of the reports, can be viewed here.