2019 Future Forestry Workers Career Day – Oregon Logging Conference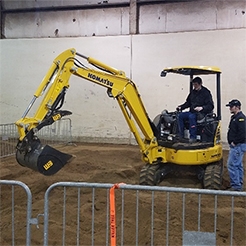 As many of you are aware, FRA began the "Workforce Connections Project" earlier this month. It has been an interesting month, with much to learn, and even more to build upon.
I began this new adventure by attending the 2019 Oregon Logging Conference held February 21-23, in Eugene, Oregon. A good aerial video of the outdoor exhibits gives you a feel for the atmosphere of the show: 91st Annual OLC – Outdoor Footage.
There were many great opportunities to interact with state and regional associations, FRA members, and potential members. Multiple colleges and trade shows had booths which I was able to interact with and exchange contact information for future collaborations.
For me, the best part of the conference was the "2019 Future Forestry Workers Career Day" that was held on Friday, February 22. This is the second annual career day affiliated with the Oregon Logging Conference. Last year there were 400 students and educators registered for the event. This year, the number nearly doubled to almost 800 registered students.
A few facts about the event:
The idea for the event was born from the need to attract a younger generation workforce into logging and other natural resource industries.
For the 2019 event, 35 Oregon and Washington high schools registered to participate.
Students took part in hands-on activities in these career fields:

Forestry, Reforestation, and Mills
Diesel Mechanics, Welding, and Heavy Equipment Operations
Wildland Firefighting

Hands-on activities included: choker setting, single buck and crosscut sawing, log scaling, compass and pacing, cable splicing, tool identification, tree planting, excavator operation, and arbor climbing.
Students and educators interacted directly with industry professionals.
Seventeen companies had exhibits and information to share with the students and educators. Exhibitors included: Peterson CAT, Roseburg Forest Products, Miller Timber Products, Rosboro, Cascade Timber Consulting, Triad Machinery, Centralia Diesel College, Kerr Contractors, Pape Machinery, Oregon Department of Forestry, Society of American Foresters, Oregon Forest Resources Institute, Swanson Group, General Trailer/Thomason Tree Farms, Seneca, Future Natural Resource Leaders of Oregon, and Pacific Forest Foundation.
Following the interactive portion of the day, the students were free to tour the outdoor and indoor exhibits that showcased millions of dollars of state-of-the-art equipment on display at the Oregon Logging Conference.
The biggest learning for me was that events like this are happening across the country, and many of us are unaware of them. As we network on these matters – and as we make more and more Workforce Connections, I look forward to attending additional similar events bringing employers in contact with those future forestry employees – some who might not have even considered the possibilities in our industry.
NOTE: Detailed facts on the Career Day was provided by Mary Bullwinkel, Media/Public Relations – Oregon Logging Conference.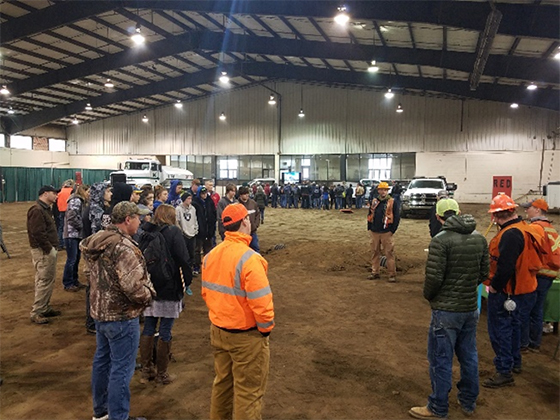 Two simultaneous hands-on demonstrations during the 2019 Future Forestry Workers Career Day.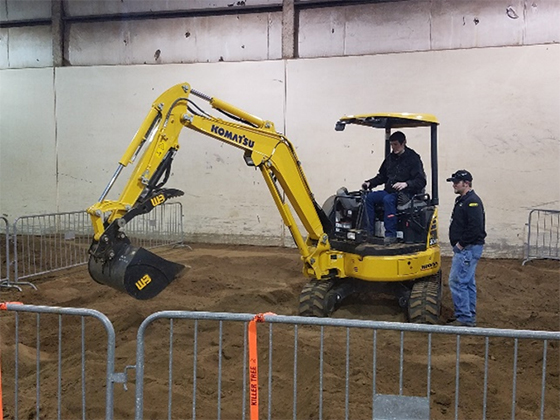 A student practicing heavy equipment operations.