South Carolina Addresses Log Trucking Challenges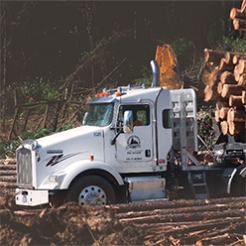 Logging companies are facing two challenges that have produced a crisis threatening South Carolina's wood supply chain. The Forestry Association of South Carolina is partnering with the South Carolina Timber Producers Association and the South Carolina Trucking Association to address these issues.
Increased Liability Insurance Costs for Log Trucks
The Forestry Association of South Carolina is working with Governor McMaster and his cabinet agency, the Department of Insurance, to identify solutions to the insurance crisis facing log truck owners. Insurance rates have tripled for many companies.
The Insurance Department released a report titled "Examination of Forestry Trucking Insurance Coverage" identifying the factors driving up insurance costs on January 19, 2018. In reviewing the report with the Department of Insurance, the following factors were identified as contributing to the increase in log truck insurance premiums:
The log truck insurance market needs increased competition.
Distracted driving is causing more accidents (cellphone usage and texting while driving).
Costs of repairs are more expensive than in the past.
There is not enough emphasis on safety programs for log truck drivers.
There is a high number of inexperienced log truck drivers and also a lack of qualified drivers.
High court verdicts are impacting competition in the market place and causing insurance losses.
Our industry needs to work with the Department of Insurance on establishing captive insurance companies and opening up surplus lines for loggers.
The Forestry Association is a member of the SC Coalition for Lawsuit Reform which intends to push for reforms in 2019 that will address high court verdicts.
The three issues that the Coalition will be focusing on are:
Abolishing the deep pocket rule which allows plaintiffs to target the defendants with the most money or insurance.
Requiring rotation of circuit court judges to avoid the appearance of "home cooking."
Advocating for the SC Supreme Court and the SC Bar Association to start regulating TV Lawyer advertising.
Failure to address the "deep pocket rule" commonly referred to as joint and several liability will result in:
Parties with deep pockets being exposed to huge risks because injured parties are more likely to go after those with substantial assets, even if their percentage of fault is small.
Anyone who is adequately insured or has substantial assets becomes a target, regardless of fault.
If one party is uninsured or insolvent, the risks unfairly shift to the others.
Businesses in SC, especially small ones, could be one lawsuit away from going out of business.
Insurance costs will rise, making it hard to get or afford liability coverage.
On January 24, 2019, Rep. Davey Hiott (R-Pickens) Chairman of the House Agriculture Committee and 55 co-sponsors including the Republican Majority Leader and the Chairman of the Legislative Black Caucus introduced House Bill 3758 which abolishes the "deep pocket rule" if a business is less than 50 percent at fault in an accident.
Supporting Efforts to Increase CDL Drivers
The Forest Industry needs more commercial driver's license (CDL) operators to drive log trucks and to deliver wood and paper products to customers. The Forestry Association supports "Be Pro Be Proud," a program promoting skilled trade jobs to high school students, and other programs to recruit and train CDL drivers. Governor McMaster has endorsed the Be Pro Be Proud program and included $950,000 in his Executive Budget that was released in early January.
The Forestry Association is working with the South Carolina General Assembly on obtaining state funding for the Be Pro Be Proud program.
The House Transportation Subcommittee held a hearing on October 17, 2018, on the shortage of CDL drivers and related issues such as insurance losses and the need for tort reform. Mike Macedo, International Paper; Joey Ferguson, Resource Management Service; Reg Williams, Log Creek Timber; and Cam Crawford, Forestry Association President, testified about the negative impacts the CDL operator shortage and the insurance crisis facing log truck owners are having on the wood supply chain.
On November 27, 2018, the House Transportation Subcommittee held a second hearing on the CDL operator shortage. Nancy Thompson, Director of Government Affairs, Weyerhaeuser, testified about Weyerhaeuser's efforts to establish log truck driver training programs in other states.
The Forestry Association is seeking tuition scholarships and funding for CDL driver training programs at our state's technical colleges.
Closing
In South Carolina, we are blessed with abundant timberland and world-class wood and paper products manufacturers. But we are in desperate need of log truck drivers to haul the timber to our mills.
What's the benefit of having an abundant supply of timber if it cannot be transported to our forest products manufacturing facilities?
Timberland owners, foresters, lumber and paper mills are all impacted by the shortage of log truck drivers and the threat of losing logging companies because of high insurance costs and lawsuits. The entire wood supply chain must join together in solving these challenges.