Labor is an Issue Across the Forest Products Industry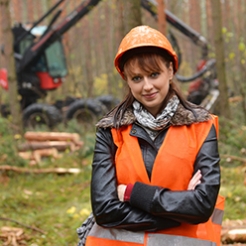 The workforce for the forest products industry is an area of increasing concern. Identifying, training and retaining good people is talked about at industry meetings, boardrooms and log landings.
I was recently a guest on The Northern Logger Podcast, produced by the magazine of the same name. (If you're not familiar with podcasts, they're basically a radio show that can be listed to anytime on your computer or phone.) I was on with several other members of the Northeast's forest products industry as part of a discussion about what to expect in 2019, and I was struck by how often "workforce" came up.
In my comments, I note that the forest products industry is "facing a worker shortage, but we're not alone. In a strong economy, people that can operate equipment have an awful lot of choices." We see this in logging, in trucking, and at the mills.
John McNulty of Seven Islands Land Company – a land management organization – notes that "the labor force is our biggest challenge going forward…The kids coming out of high school aren't really looking at getting into the woods. There are opportunities – great opportunities – for anyone that wants to jump into that lifestyle, but that's not something that interests a lot of kids nowadays."
Brian Souers, President of logging and trucking firm Treeline, hopes that "2019 will be the year for the entire forest industry – the three-legged stool of mills, landowners, and contractors (suppliers). You need all three legs to be strong… if one leg gets weak, then the stool will fall over." People are the key to success at each part of the industry, and Souers cautiously notes that finding and retaining people is becoming an issue across the industry.
I speak a little bit about particular logger training programs that exist in the Northeast – and how to build upon these successes, but McNulty summarizes the workforce issue by recognizing that "just throwing money at [workforce development] is not going to attract people to come work in the woods. We have to look at other ways of getting people in the seat of a machine, to get the type of work done that we want done."
FRA recognizes how big this issue is for our members, in every region of the country and every segment of the industry. In every region, we are looking to identify successful workforce development initiatives and share these best practices with others. We have highlighted efforts to recruit veterans, offer training to students as they enter the workforce, and keep great employees. If you know of such efforts, let us know.
To hear to the entire podcast, you can either listen here or go to your phone's podcast app, search for "The Northern Logger", and download episode 11, "The Big Picture". The podcast revolves around an article I wrote for the January edition of the magazine, which can be read here (pdf). For both the article and interview I don't speak in my roles as FRA Northeast Region Coordinator, but as a consultant with Innovative Natural Resource Solutions LLC.