FRA'S Timber Harvesting Safety Manual: A Great Gift Idea for this Season—or Anytime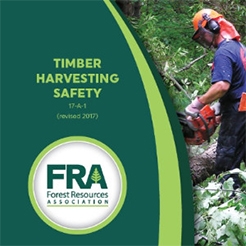 Looking for a safety-related gift for your logging contractors or employees this Christmas or for the New Year? Why not give them one of FRA's flagship publications, the Timber Harvesting Safety Manual? This well-known resource, updated in 2017, is an ideal reference guide for loggers and makes an excellent general safety text for logger training and education programs. Additionally, logging contractors may use the material for their in-house loss control programs. Some loggers have incorporated the FRA Timber Harvesting Safety Manual into their written safety compliance policy for their logging and log trucking employees.
The 71-page manual (FRA publication # 17-A-1) covers logging safety issues comprehensively, under the following headings:
General Rules of Safety
Personal Protective Equipment (PPE) Guidelines
Safety Guidelines for Hand Tools
Safety Guidelines for Chain Saw Operations
Safety Guidelines for Woods Equipment Operations
General Operational Safety and Loss Control Guidelines
Safety in Transportation
Accident Investigations
Hazard Communications Program
Lockout-Tagout Guidelines
Emergency Care
Bloodborne Pathogens Exposure Control Plan
OSHA Information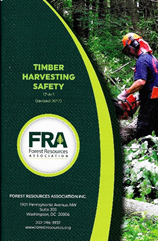 The manual price is $6.00 for FRA members and $12.00 for non-members. (Website login is required to apply the member discount coupon code.) Click here to order.
Ordering large quantities? Contact FRA's national office for pricing information.
Looking instead for a logging or trucking safety video to show your employees over the long winter months? See the descriptions of FRA's safety-related DVDs here.
It's never out of season to give the gift of safety.