House Farm Bill Language Provides for Federal Forest Management Reform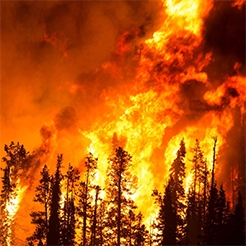 As more than 6.3 million acres have already been consumed by this year's fire season, it surely will be one for the record books. Whatever your position may be on the escalating number of fires, climate change or past management decisions, one thing is clear–our nation's forests are in trouble and need to be actively managed to improve forest health and resiliency. The large conflagrations have continued far too long, destroying property and placing families and firefighters at great risk.
The Senate and the House will begin conference committee discussions in September. During this process, they will begin to merge the differing Farm Bill versions of the upper and lower chambers into one. One area the House version differs from the Senate is that it has several Categorical Exclusions (CEs) that provide the Forest Service with the necessary tools to improve forest health and wildlife habitat.
The majority of the acres that burn each year are on federal lands. The CEs will allow the Forest Service to expedite forest management decisions in a more timely manner. This is a good thing as many of us know, the faster the treatments get to the ground, the faster our forests become more healthy and resilient. In turn, these forests will provide for clean water, clean air, wildlife habitat, and forest products.
These CEs can be found in section 8311 of the House Farm Bill. The CEs would provide for the following, if included in the final Farm Bill and passed by Congress:
SEC. 8312. CATEGORICAL EXCLUSION TO EXPEDITE SALVAGE OPERATIONS IN RESPONSE TO CATASTROPHIC EVENTS. This CE is limited to no more than 6,000 acres and must be accompanied with a reforestation plan and provide for stream buffers. This CE will allow areas to be treated in a timely manner following a fire or weather-related events that cause significant damage to forests, such as blown down timber. This CE is important to remove damaged trees that will reduce the fuel loads created by these events.
SEC. 8313 CATEGORICAL EXCLUSION TO MEET FOREST PLAN GOALS FOR EARLY SUCCESSIONAL FORESTS. The primary purpose of this CE is to improve, enhance or create early successional forests for wildlife habitat improvements that are consistent with applicable forest plans. In the Lake States Region, for example, the National Forests in the region have only provided for 50% of the young forest acres objectives (<10 years of age) as stated in the region's forest plans. This CE is limited to 6,000 acres or less.
SEC. 8314. CATEGORICAL EXCLUSION FOR HAZARD TREES. This CE would allow for the removal of trees for the purpose of protecting public health, water supply, and public infrastructure.
SEC. 8315. CATEGORICAL EXCLUSION TO IMPROVE OR RESTORE NATIONAL FOREST SYSTEM LANDS OR PUBLIC LAND OR REDUCE THE RISK OF WILDFIRE. This CE would allow for the treatment of vegetation that reduces the risk of wildfire. This CE is limited to 6,000 acres or less.
SEC. 8316. CATEGORICAL EXCLUSION FOR FOREST RESTORATION. The primary purpose of this CE under is to improve forest health, reduce hazardous fuels, and improve wildlife and aquatic habitat. This CE is limited to 6,000 acres or less.
SEC. 8317. CATEGORICAL EXCLUSION FOR INFRASTRUCTURE FOREST MANAGEMENT ACTIVITIES. Included in this CE are approved activities for road construction and maintenance, and reclassification of National Forest System roads. This CE will allow for improved forest access to respond to wildfires.
During the Lake States Region Fall Meeting, an update will be provided on the Farm Bill and other important legislation that affect FRA members. If you have not registered for the meeting, you can do so by clicking here.