Grappling with Local Road Hauling Restrictions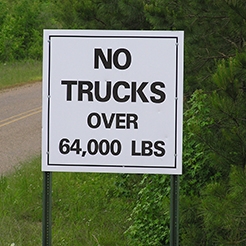 FRA members occasionally express frustration with the growing trend of local governments (counties, townships, parishes) enacting ordinances that restrict truck weights and require road bonding for timber harvesting operations. While states and localities are challenged to raise sufficient funds for road maintenance and repair, such local ordinances can unreasonably restrict timber hauling and impose unwarranted cost burdens on wood suppliers, landowners, and timber purchasers.
FRA members and allied associations have effectively employed four types of strategies to deal with road bonding and truck weight restriction issues:

1) Pre-emptive action, such as uniform statewide permitting or bonding requirements or so-called Right to Practice Forestry laws; they have achieved varying degrees of success in preventing unreasonable harvesting ordinances. However, it may still be necessary to involve state industry associations and the Attorney General's office when local governments propose new ordinances that violate a statewide law's intent.

2) Actively engaging local governments and administrators when they propose ordinances. When loggers and/or landowners have shown up for public meetings in large numbers to express the impact of proposed road restrictions and ordinances on them, local officials have often dropped the proposals. It is important to point out to local officials the ordinance's negative impacts on local (small) businesses, on landowners, and on commerce and taxes (reduced timber sales tax revenue, for example). Note that speaking as an active constituent in the county is usually more effective than speaking as an employee or spokesperson for a big business.

3) Coping with and trying to minimize the burden associated with road bonding or restrictive hauling ordinances already in place. Again, it is important for the industry to unite in communicating the negative economic impacts to local officials. Where difficulties or road-use objections are expected, photograph the road conditions before, during, and after harvest to prove the logger took care of the road in situations where he feels he is being unfairly singled out. It can also be helpful to videotape the road condition during such times and to videotape other heavy trucks (gravel, concrete, oil & gas industry, etc.) that use the road. (Remind the officials that log haulers must not be singled out while these other heavy load haulers receive a free pass.)

4) Funding local infrastructure improvements. Some counties have found that voters will approve bond referendums and slight increases in sales and use taxes when the funding goes directly to local road and bridge projects. Local control over funding and projects counteracts the typical shortfalls rural forested communities face when not enough state and federal infrastructure funds are allocated to their region.

Remember that most taxes, ordinances, and restrictions stay in place because individuals and groups do not show up with enough force to advocate their reasons for opposition and to point out the harmful impact on local economic activity. Don't underestimate the ability of persistence and "strength in numbers" to overturn ordinances and proposals that add unnecessary costs to the wood supply chain.