The 2018 Midterms: Expectations for the Senate and House of Representatives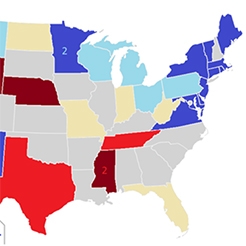 Recently, I had the opportunity to attend a 2018 election briefing hosted by BIPAC, the organization FRA uses for grassroots outreach. The briefing was part of their quarterly election briefing series. BIPAC Senior Political Analyst Jim Ellis led the discussion on the elections taking place in the Senate and House of Representatives in November 2018. The information presented was valuable to FRA as we begin to consider the political realities and expectations in Washington, DC for 2019 and beyond.

As things stand, the Senate is narrowly controlled by Republicans in a 51 to 49 majority. Normally, it would be difficult for a party to hold on to such a small majority when that party also controls the White House in a midterm. However, the map is very favorable to Republicans this election cycle as Democrats must defend 24 seats as opposed to the Republican's 9 seats. To make matters more difficult for the Democrats, 10 of the 24 seats they are defending were won by President Donald Trump in the 2016 presidential election. Five of these states are considered less competitive this time around, with Democrats expected to hold their seats in Michigan, Montana, Ohio, Pennsylvania and Wisconsin. The other 5 states are considered much more competitive with Nelson in Florida, Donnelly in Indiana, McCaskill in Missouri, Heitkamp in North Dakota, and Manchin in West Virginia all in for tough re-election campaigns.

Despite this challenging map for Democrats, Republicans face their own challenges. Senator Dean Heller in Nevada is in danger of losing his seat in a state that Hillary Clinton won in the 2016 presidential election. Additionally, the retirements of Senator Jeff Flake in Arizona and Senator Bob Corker in Tennessee have put their usually-Republican seats into play. Based on the high number of states that Democrats have to defend and the more limited number of competitive Republican seats, BIPAC's Jim Ellis expects that Republicans will continue to hold a small majority in the Senate come 2019, but that it is still too early to confidently prognosticate this as some races have yet to fully develop.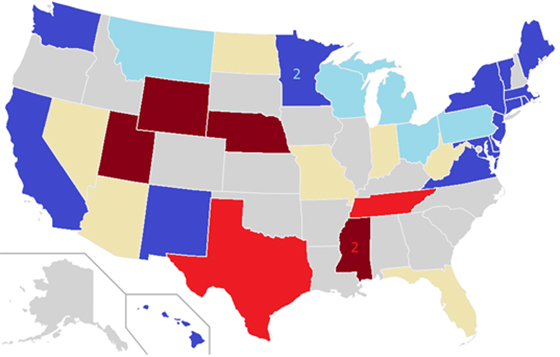 Dark Blue – Safe Democratic Seat, Light Blue – Lean Democratic Seat, Tan – Toss-up, Light Red – Lean Republican Seat, Dark Red – Safe Republican Seat, Gray – No 2018 Senate Election

With regard to the House of Representatives, Republicans hold a 235 to 193 seat majority with 7 seats vacant. Democrats need to gain 24 seats to attain majority. Currently, the general consensus is that Democrats have a 50-50 chance of achieving this objective. This expectation comes from a variety of factors including the generic congressional ballot which looks favorable to Democrats, and changing voting patterns in once more reliably Republican suburban districts such as Barbara Comstock's Virginia's 10th, Dave Reichert's Washington's 8th, and Frank LoBiondo's New Jersey's 2nd. Overall, these factors have shifted many Republican House districts across the country in a competitive direction.

Ellis stated that Democrats' chances of taking back the House depend on their ability to pick up seats in both California and the tri-state cluster of New York, New Jersey and Pennsylvania. In California, Republicans are spread thin as they try to defend 7 seats that Hillary Clinton won in 2016. In Pennsylvania, a recent redistricting opinion from the Pennsylvania Supreme Court has thrown the state's Congressional map into disarray and shifted some reliably Republican districts, mostly in suburban Philadelphia, to be more competitive than usual. Nationally, Democrats are defending a few vulnerable seats as well, most notably in Minnesota and Nevada, but overall Republicans are defending many more.

Ultimately based on Jim Ellis's expectations, Republicans are more likely to retain the Senate but both parties have a reasonable chance of winning the House. These prognostications are likely to shift and come more into focus the closer we get to election day. The FRA team in Washington will continue to stay on top of the 2018 Midterm Election and monitor developments for members in the coming months.