Young Forest Decline in the Lake State's Farm Bill Offers Forest Service Solution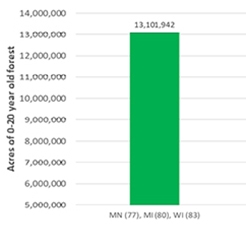 The 2018 Farm Bill offers a reasonable solution to improve young forest habitat on federal lands with provisions for a categorical exclusion for the purpose of creating young forests.
Young forests (less than twenty years of age) provide habitat for many wildlife species in the Lake States. Over the last forty years, the amount of young forest in the Lake States has shown a significant decrease. With the loss of young forests, species associated with early successional habitat will continue to decline in abundance. States such as Connecticut have recognized the value of early successional forests and have implemented initiatives to increase young forest habitat. 1

Historically, young forest habitat was created by natural disturbances, such as insect disease outbreaks followed by fires. Today, forest management and timber harvesting are tools that are used to create young forests. Timber harvesting has many benefits over natural disturbances (e.g., timber utilization). It is also less harmful to the environment. Furthermore, research in the Lake States (MN) shows that the species diversity of young forests established post-logging was no different than those established post-wildfire.

"For young stands, those established post-logging had higher vascular plant diversity than those post-wildfire. Otherwise, we found no evidence of differing species diversity (including canopy tree, shrub, herbaceous, and bryophyte species), composition, productivity, or nitrogen cycling in forest stands of comparable age and forest type that originated after logging compared to after wildfire." 2

In the Lake States, economically important wildlife species, such as ruffed grouse and white-tail deer, are dependent on young forest habitat. Each year these species generate substantial revenue for the Lake States region through license sales and all the activities involved in pursuing these game species. In the Lake States, it is estimated that hunting contributes $9.2 billion annually to the region's economy. 3

Additionally, many non-game species are associated with young forest habitat. The golden-winged warbler is one songbird whose population has dramatically decreased. The decline has been directly attributed to the loss of young-forest habitat throughout its range. 4
What does the data say…
Young forest acreage in the Lake States region has been trending downward. Forest Inventory and Analysis (FIA) data shows that the region has 6+ million fewer acres of young forest habitat than it did forty years ago. Over this same time period, older forests (greater than 80 years old) have increased by more than 5.7 million acres.

As young forests decrease and old forests increase, we will continue to see declines in species that depend on young forests and increases in forest mortality and wildfires.

The solution to increasing the wildlife species associated with young forests is to create more habitat through active forest management. This includes forest restoration projects to reduce fuel loads and timber harvesting. In the 2018 Farm Bill, the early successional habitat categorical exclusion offers a reasonable solution to increase the amount of young forest habitat on federal lands.

The early successional forest exclusion would be welcomed in the Lake States. It would allow the Forest Service to move towards the young forest objectives identified in its forest plans. Currently, young forest habitat on Forest Service lands is less than fifty percent of the acres recommended by the forest plans within the region.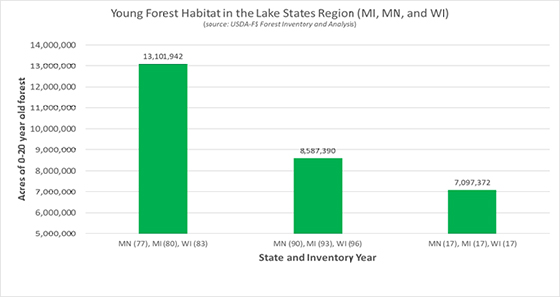 1 http://www.ct.gov/

2 https://www.researchgate.net/

3 http://huntingworksformn.com/

4 https://www.nrcs.usda.gov/