Families in the Forest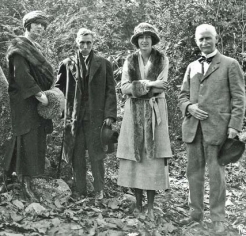 I attended the Olympic Logging Conference this year in beautiful Victoria, British Columbia. The theme, "Families in the Forest," really caused me to reflect on how families have interacted with the forest.
One conference tradition each year is to present a slide show of old forestry pictures, some dating back more than a hundred years. You can imagine the amazing images that were included: large families, young couples with small children, multi-generational families. Each photograph showed how the forest affected these people's lives: log homes, fields cleared for farming, wood used for heat, trees used for protection, etc.
When industry folks discuss families in the forest, usually we focus on the business aspect. Many family businesses are FRA members and friends. For example, as we recognize Regional and National Outstanding Loggers each year, many times husbands, wives, brothers, sisters, sons, and daughters are involved with the family business. This is true for trucking companies too – quite often families are involved and the business benefits from the family dynamic.
For a time, it seemed like the trend was for industry business owners to steer their children to other careers. As I look at the makeup of many companies in the West, I am hopeful that the trend may be reversing – with multiple generations involved in all aspects of the business.
We have all heard the different names given to generations in the workforce: Traditionalists, Baby Boomers, Generation X, Millennials, Gen Z. Currently, there is a large component of Boomers in the forest industry. To continue to be a viable and successful industry, we must have all generations represented. It is happening across the country – but not in the numbers that we need. Perhaps getting more family members involved at all levels of a company will help. One benefit (and challenge) to having all generations present is that the communication modes among different age groups vary. As our customers get younger, it is a good idea to communicate in ways that resonate with them. Having input from different generations will help.
Another aspect of "Families in the Forest" is getting out in the woods and enjoying all that the forest has to offer. Richard Louv, the author of Last Child in the Woods, was a guest speaker at the Olympic Logging Conference. In his book, he talks about what he calls "Nature-Deficit Disorder." He believes many of the childhood trends such as a rise in obesity, attention disorders, and depression, could be assisted by exposing children – early and often – to nature in all its glory.
As you can imagine, Mr. Louv was "singing to the choir." Most, if not all, of the people in the audience had spent a large portion of their lives and careers in the forest. One of the points Louv made was that because of our love for the forest, we are all in positions to make a difference in the lives of those who are not able to visit nature as often.
What can we do?
Get more involved with local schools. Perhaps you could offer a tour on or near a logging job.
Bring nature to urban schools. Bring the forest to the classroom!? What child doesn't like to learn about critters? Or play in the dirt? Help them understand how healthy forests are imperative to a healthy habitat for wildlife – and humans.
Obviously, there are many programs that are already in place. Project Learning Tree (www.plt.org) has curriculum across the country. You can contact your state PLT Coordinator to learn how to assist in the learning/teaching process.
I, like Richard Louv, may be singing to the choir – but it is worth repeating. Families in the forest is a good idea, whether walking there – or working there.