Earth Day – A Day To Celebrate Forestry!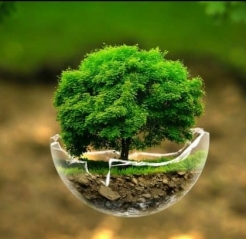 Earth Day – an event celebrated worldwide each year on April 22nd – has its roots in the Lake States Region, as Wisconsin Senator Gaylord Nelson proclaimed the first Earth Day on April 22, 1970. The day is seen as a time for each of us to reflect upon the relationship we have with our natural world, and to consider how we balance our daily dependence upon natural resources with the need to protect those resources for future generations.

The concept of Earth Day especially resonates with foresters in that the practice of forestry involves long-term protection of the resource through active management of forest health, growth, harvest and regeneration. Foresters have long embraced the concept of balanced, perpetual use and protection of forest resources – a concept formally recognized by Congress with the passage of the Multiple-Use Sustained-Yield Act of 1960.

Several forest certification programs emerged in the 1990's that added more to the definition of sustainable forestry and included standards against which forestry practices might be judged. Over the years, the Sustainable Forestry Initiative (SFI) and Forest Stewardship Council (FSC) programs have emerged as leaders in forest certification across North America and are viewed as being responsible in part for improving the public's perception of forestry practices.

Our nation's forests now grow far more wood than is harvested each year, while also supporting a forest products industry with a tremendous economic impact that is especially vital to rural communities. These forests today contain about 34% more timber volume than they did at the time of the first Earth Day in 1970.

The following table summarizes the increase of the net volume of growing stock on timberland in the United States since 1977. Note that the north, which includes FRA's Lake States Region shows the highest percentage increase (66%) in growing stock volume over the past 40 years. The 1977 forest resource data most closely represents the condition of U.S. timberland at the time of the first Earth Day in 1970.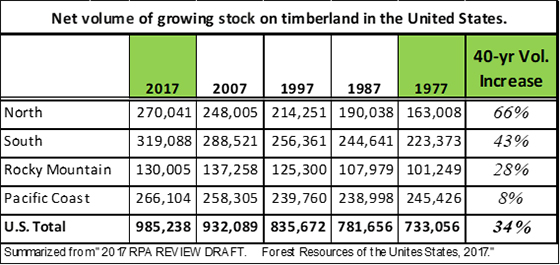 Actively managed forests provide a wide array of products, sequester carbon, improve forest health, protect soil and water quality, and provide the backdrop for outdoor recreation and tourism industry. The table above suggests there exists a potential for the forest products industry to grow and to contribute substantially more of the economic and environmental benefits associated with proper forest management.

By any measure – when it comes to our nation's forests – there's reason to celebrate! And for those of us who are part of the wood supply chain, Earth Day is a good time for us to remind others of the role of sustainable forest stewardship in enhancing our economy, environment, and social well-being.