U.S. Forest Products Lab – Over a Century of Pioneering Wood's Potential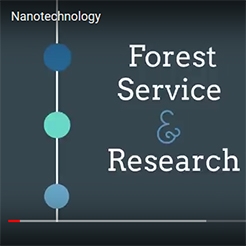 The Forest Products Laboratory (FPL), established by Gifford Pinchot in 1910, is the national forest products research lab of the USDA Forest Service. By producing high-quality, science-based innovation, FPL research quite literally improves the safety, comfort, and well-being of every American, every day.

Early FPL research highlights include:
developing preservatives that reduced timber demand for railroad ties by 75%
finding ways to more than double the lumber recovery from logs
devising wood frame technology used by over 90% of the nation's homes
designing and constructing the nation's first pre-fabricated home
Over the years, FPL has been either primarily or partly responsible for many of today's wood-based technologies, including wood preservatives, glulam beams, oriented strandboard, and fiber-based packaging. Research spans two main areas, divided into nine work units:
Wood products research

Building and Fire Sciences
Durability and Wood Protection Research
Economics and Statistics Research
Engineered Properties of Wood, Wood Based Materials, and Structures
Wood Anatomy and Forest Mycology in a Changing Global Environment

Wood, fiber and composites research

Engineered Composites Science
Fiber and Chemical Sciences Research
Institute for Microbial and Biochemical Technology
Performance Enhanced Biopolymers
To support research, FPL's Forest Products Marketing Unit (FPMU) is working to support high-value, high-volume markets for wood and biomass. FPMU has cooperative working relationships and partnerships that strengthen technology development and application across the Forest Service mission areas of State and Private Forestry, Research and Development, and the National Forest System. FPMU is also closely connected to state utilization and marketing teams across the country and has had excellent cooperation with Tribal forestry and forest products efforts.

FPL researchers work on developing domestic biofuel alternatives for U.S. commercial and military aircraft, as well as wood-based coal alternatives. They are also researching cross-lamination techniques and building code design criteria for tornado safe rooms. FPL worked with Major League Baseball to develop bats that are 50% less likely to shatter and with the U.S. Postal Service to develop self-adhesive stamps that don't interfere with the recycling process. One of the most exciting forest products research areas today is nanocellulose, a product that is as strong as steel but five times lighter. FPL produces nanocellulose and works with many partners to study potential commercial applications for this wonder material that brings wood to industries that perhaps have not incorporated it before. The Forest Service recently produced a video that explains what nanocellulose is, what it can be made into and how it's produced. It might seem hard to believe that wood can be used to make ballistic glass, synthetic armor, replacement tendons (yes, in people!), or coatings that keep food fresh longer. But it's all within reach, thanks to nanocellulose research. Click the link below to watch and learn!